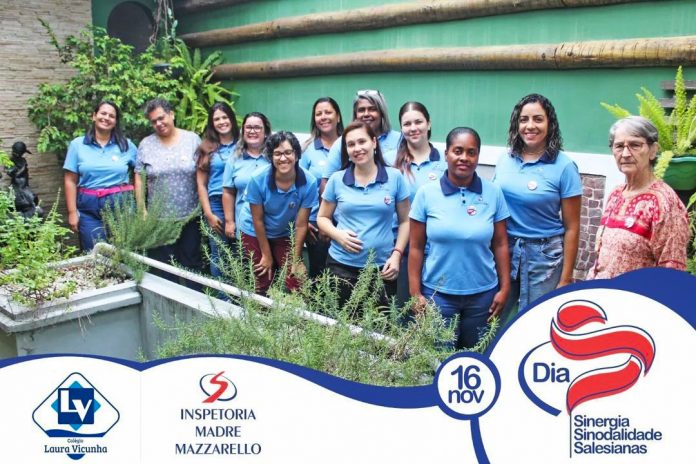 Belo Horizonte (Brazil). On 16 November 2022, in all the educative realties and social works  of the Brazilian Province Mother Mazzarello (BMM), present in the States of Goiás, Mato Grosso, Minas Gerais, Rio de Janeiro, Espírito Santo, and in the Federal District, Dia S (Day S), the day of Salesian Synergy and Synodality, took place.
The event responds to what was proposed by the BMM Province during the Assembly of Strategic Management – held on 5-6 October 2022 of the 35 educational realities and the Social Works, to bring forward the commitment to carry out the proposed actions in synergy, aimed at building a Strategic Plan.
On the occasion of Day S, the members were announced who will form the Work Commissions, in office until 2027, aimed at developing and implementing the Strategic Plan. The #EuFaçoParte (I belong) campaign was also launched, which aims to strengthen the sense of belonging and consolidate everyone's participation and involvement. Each participant received a pin with the theme of the campaign, with the mission of networking, in the light of the Preventive System and the Salesian charism.
"The 'Day S' gave the opportunity to strengthen work teams and to help acquire the awareness that we are all, in some way, connected. It is an important coordinated action. It shows that we are moving towards the same objectives, focusing on the same mission", explains Cícero Albuquerque, Communication Coordinator of the BMM Province.
Missionary synodality is one of the priority choices of the 24th General Chapter, and is expressed in the assumption, at the personal and community level, of the responsibility to "live in synodality, open to listening and accompaniment in the family spirit, to bear witness to the prophecy of communion by growing in co-responsibility, subsidiarity, and planning mentality".