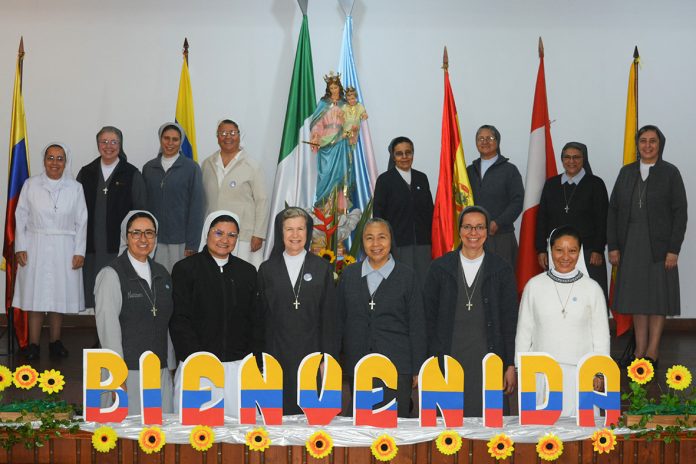 Bogotá (Colombia). From 8 to 12 March 2022, the Assembly of the Interprovincial Conference of Bolivarian Nations (CINAB) was held in Bogotá, at the headquarters of the Province of Our Lady of the Snow, convened by the President Sr. Cecilia Camacho, CBN Provincial on theme of the prophecy of the Presence, to welcome the new wine of GC XXIV in CINAB.
The objectives were: to live a formative experience in the light of the XXIV General Chapter and seek its actualization in the life and organization of the Conference; update the statutes of CINAB and agree as Provinces with regard to the studies and processes of initial formation – Period of Assessment and Guidance (PVO), Postulancy, and Novitiate.
The participants were the seven Provincials, the Provincial Vicar, and one delegate from each Province. The young women of the Assessment and Guidance Period, and the Postulants of the CBN Province were present at the opening Eucharistic Celebration. The Holy Masses of the days were celebrated by Fr. John Jairo Gómez, SDB, Provincial of St. Peter Claver Province of Bogotá (COB) and by the Vicar, Fr. Edgar Macías.
The world reality, with the faces of the Educating Communities, which after two years of resilience are reborn as seeds of hope, the joy of belonging to the Institute of the FMA, and of being part of 150 years of history, were the background for the different moments and for the reflections.
In each of these realities there is a Presence: the Mother of Jesus, Mary of Cana, "His Mother was there" (Jn 2:1). This expression, so strong in the course of GC XXIV, is a profound conviction that accompanies the choices, the sentiments, the steps, and even the fears of the assembly.
The themes of the reports were: a biblical approach to the prophecy of the Presence of Mary, developed by Fr. Hernán Cardona, SDB; "The category of presence in the service of authority", treated by the Vicar General of the FMA Institute, Sr. Maria del Rosario Garcia; "The prophecy of the presence from the heart of Mother Mazzarello", developed by the Provincial of Mary Help of Christians Province (CMA), Sr. María Victoria Montoya.
The attitude of mutual listening, careful reflection and the search for paths of communion were the characteristics of the work sessions. The moments of prayer and fraternal sharing made this meeting an experience of fraternity. The participants returned to their Provinces with joy in their hearts and a commitment to prayer and the search for the best for all and for the formation of the new generations of FMA.