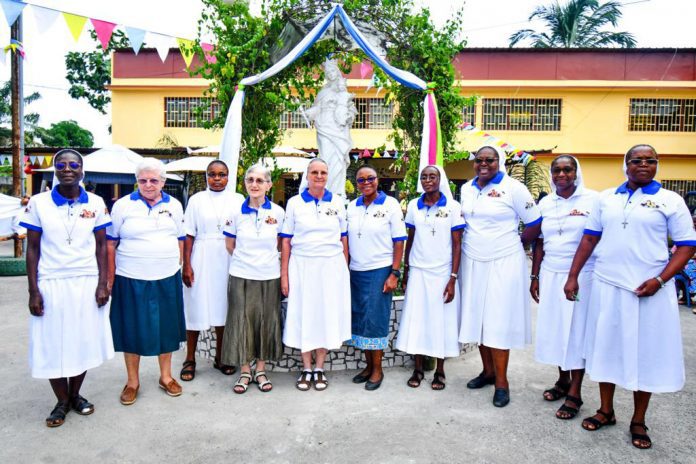 Port Gentil (Gabon). On 15 May 2022, the Community of Mary Help of Christians of Port Gentil, Gabon, of the Province of St. Mary D. Mazzarello (AEC), celebrated the 50th anniversary of its presence.
The Provincial, Sr. Leen Mestagh, with the Provincial Council and some FMA from the other two communities of Gabon, Oyem, and Libreville, participated in the event. Sr. Maria Rohrer, of O.L. of Carthage Community, of La Marsa, in Tunisia, of Our Lady of the Nations Province (FRB), represented the FMA of France and the first French Sisters who came to Port Gentil.
On the same day, the AEC Province also celebrated the Feast of Gratitude for the Provincial, on behalf of all the Educating Communities of Cameroon, Congo Brazzaville, Gabon, and Equatorial Guinea.
The theme that guided the celebrations, "from the roots to the grapes", was the subject of conferences, shows, prayer vigils throughout the city of Port Gentil, which has received much from the Salesian charism. The students' parents and the Salesian Cooperators expressed their joy by actively participating in hosting and organizing the celebration.
The celebrations were a moment of joy and thanksgiving on the part of the whole Educating Community and the ecclesial and civil authorities of the city of Port Gentil.
On the day of the feast, the Eucharist was celebrated by Msgr. Euzébius Chinekezy Ogbonna, Bishop of the Diocese of Port Gentil, who thanked the Salesian Sisters for their commitment in favor of children and young people and encouraged the parish community to be involved in the apostolate to children, young people, and the family. The Eucharistic Celebration, which was also attended by apostolic workers and benefactors, ended with songs, the band, dinner, and a show in the FMA House.
The first Daughters of Mary Help of Christians arrived in Port Gentil, Gabon, in 1972 from France. In 50 years, the "Les Cococtiers" mission has grown and today welcomes hundreds of children and young people. The mission has a Kindergarten, a Primary School, a large Literacy Center, and a Professional Training Center for skills in cooking, pastry, cutting, and sewing, computer science, and preparation for entry in the CFP for young people with a low level of education. The Salesian spirit is breathed through the commitment of the laity in the mission.