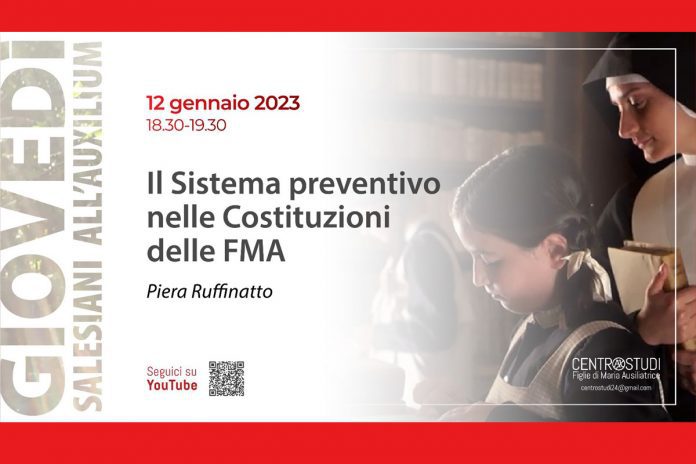 Rome (Italy). On 12 January 2023, in direct streaming on the YouTube Channel of the FMA Study Center, starting at 18:30 (Italian time), the 3rd appointment of "Salesian Thursdays at the Auxilium", will be held on the theme: "The Spirituality of the Preventive System in the Constitutions of the Institute of the Daughters of Mary Help of Christians (1982)".
The intervention of Sr. Piera Ruffinatto, FMA, Dean of the Pontifical Faculty of Educational Sciences "Auxilium" in Rome and Professor of Educational Methodology, retraces the text of the Rule of life of the Daughters of Mary Help of Christians in the light of the Preventive System, "specific spirituality and method of pastoral action [of the FMA]" (Art. 7).
The goal is to discover how the Chapter Members who drafted the text, inspired by the Holy Spirit, were able to express the educational identity of the Institute and of each Daughter of Mary Help of Christians.
Echoing the celebrations of the 150th anniversary of the Institute (1872-2022), which has just concluded, Sr. Piera will urge rekindling the fire of the da mihi animas, soul of the Preventive System, to reappropriate the proper identity of the FMA, source of apostolic passion that makes us courageous and ready to respond to the multiple calls of the present time with the generous gift of self.
Source: pfse-auxilium.org