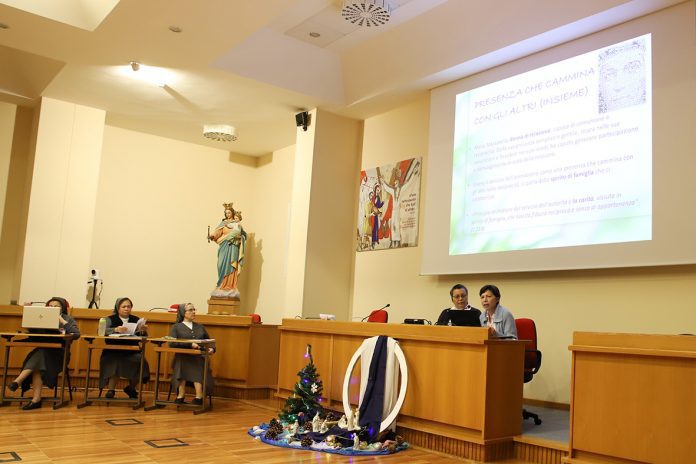 Rome (Italy). In the afternoon of 7 January 2023, the Leader Dagmar and the Councilors of the Central Council of the Volunteers of Don Bosco (VDB), a Secular Institute belonging to the Salesian Family, together with their ecclesiastical assistant Fr. Joan Lluís Playà, Salesian of Don Bosco, are welcomed in the chapter hall of the Generalate by Mother Chiara Cazzuola, Superior General of the Institute of the Daughters of Mary Help of Christians, and her Council in an atmosphere of visible joy.
After the initial greetings, voices and hearts unite in the prayer of First Vespers of the Feast of the Baptism of the Lord. Subsequently, Mother Chiara expressed the joy of resuming the meetings that began about 15 years ago and were interrupted due to the Covid-19 pandemic. She then gives the floor to Dagmar, Leader of the VDB, who thanks for this closeness of the two Institutes, united by the desire to respond to the Lord's call.
A short round of presentations allows for the rediscovery of old acquaintances among the Councilors in their second six-year period and to get to know the new ones included in the two Councils.
They then move on to sharing some paths. Sr. Marta Riccioli, Visiting Councilor, and Sr. Leslie Sándigo, Councilor for the Salesian Family, illustrate the common thread that unites the three perspectives of General Chapter XXIV: the "prophecy of presence", being there in contemporaneity, personally and communally. The category of presence requires the strengthening of listening, as an openness to God and to one's brothers and sisters, which generates care. It is a presence that walks with others, cultivating the culture of reciprocity, in a continuous personal and community conversion to the spirituality of communion. It is an outgoing and online presence, open to the breath of the Holy Spirit.
Dagmar expresses appreciation for the journeys of the FMA Institute and underlines the importance of witnessing, being in the world like Our Lady, who leads everyone to Jesus with her life. Then a beautiful and profound sharing begins, which encourages us to always feel the presence of God within oneself, to communicate it to those who live around us, without fear of our own weakness, but trusting in the power of God.
The evening concluded with a truly fraternal agape, with a 'see you again' at the next appointment.