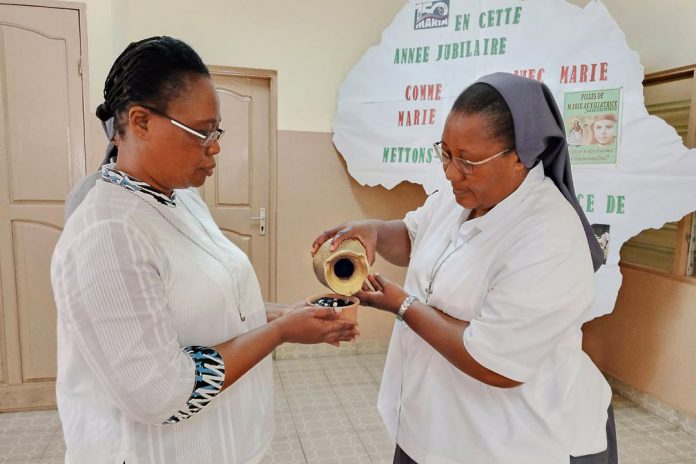 Lomé (Togo).  On 28 and 29 December 2021 in Lomé, the Provincial of Mother of God Province of West Africa (AFO), Sr. Yolande Kikange, and Sr. Yvette Badini, Delegate to the Chapter, presented the transmission of the experience of General Chapter XXIV, held in Rome from 17 September to 24 October 2021, for the FMA communities of Mary Help of Christians of Lomé and St. Mary D. Mazzarello of Kara, in Togo.
The meeting was introduced by the enthronement of the Word of God and attentive listening to the Gospel passage of the Wedding at Cana (Jn 5: 2-10), followed by the song "Wedding at Cana" sung by the young people of the Period of Assessment and Guidance (PAG) and by the Postulants.
The Provincial then invited the Animators of the two communities to bring water and seeds and put them in jars, as a sign of generativity in the mission. After the moment of prayer and the introduction by Sr. Yolande, the Chapter members shared with the sisters the story of the main moments and the contents of the Chapter experience: the videos of the arrival of the Chapter Members in Rome, in the Generalate, the report on the six-year term 2014-2021 of Mother Yvonne Reungoat, with the charismatic experiences, challenges, and aspects to be strengthened.
The presentation was followed by some moments of reflection, of sharing in groups and in the assembly, which allowed the FMA to enter the heart of the Chapter event. The participants also had the opportunity to meditate on the text "Prophecy of a courageous presence" by Fr. Erino Andrea Leoni, Salesian of Don Bosco, a reflection on the attentive, prayerful, and active presence of Mary at the wedding at Cana. The document of the Acts of the XXIV General Chapter was also presented, which ends with the deliberation of the Chapter.
The experience of the transmission of GCXXIV concluded with the fraternal moment of the feast of Cana. The FMA of the communities of Togo expressed their gratitude to Sr. Yolande Kikange and Sr. Yvette Badini for sharing what they experienced in Rome.