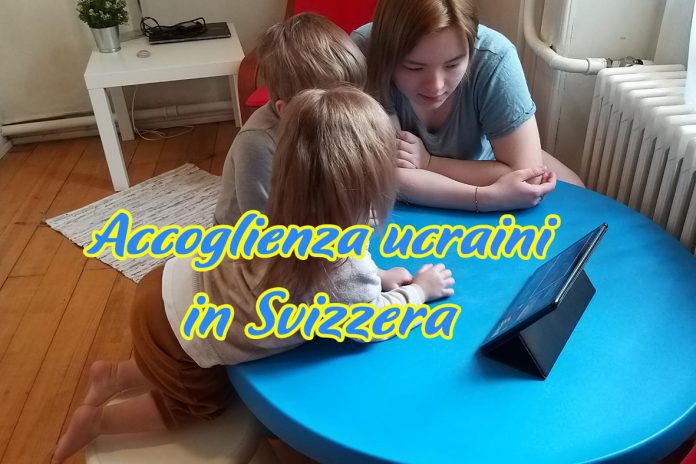 Geneva (Switzerland). The Community of Mary Help of Christians of Veyrier, Geneva, Switzerland, of the Lombard Holy Family Province (ILO), with the School Committee, the administrative and operational body of "La Salésienne", has taken steps to welcome Ukrainian mothers and children seeking hospitality.
A little girl has already been placed in the Primary School, housed nearby with her mother and an aunt. In addition, the FMA, with the members of the School Committee and Mr. Antonio, collaborator of the House, set to work to renovate a small apartment, once intended for the chaplain, so as to be able to accommodate other people. Everyone got involved with great generosity, asking only for half the cost of the repairs, knowing that a Ukrainian family would be housed there.
On 26 March 2022, accompanied by the family who had welcomed them on their arrival from Ukraine, Valeria arrived, a 23-year-old mother who speaks Russian, Ukrainian, and English, with two children: the oldest, aged four and a half, with autism, and a two-year-old girl, who will be inserted with the little ones in "La Salésienne". The older child already has a place in a Geneva school specializing in autism.
"We welcomed them for lunch, in a serene and family atmosphere. The emotion was evident in everyone's eyes. Valeria looked at her children with all the tenderness of a young mother. She said they had walked two and a half hours on foot in the cold, to reach the Polish border. There, a French gentleman who had arrived with a minibus loaded with basic necessities, returned with the minibus full of Ukrainian people, including Valeria and her children," recounts the Animator, Sr. Lucia Corbetta.
Arriving in France after two days of traveling, they remained with that family for 15 days, before arriving in Veyrier at the FMA, where they found a home, kindness, and attention to their needs.
"Fraternal welcome is the language that everyone understands. Even the little one in the evening, upon returning from school, wants to come to the Sisters, where he finds a sweet and a lot of affection," concludes Sr. Lucia.
"Welcoming, accompanying, growing" are the key words of the mission of the Educating Community of "La Salésienne", which for 100 years has welcomed about 400 children of all social backgrounds and religious denominations in nursery and primary schools. Characterized by interculturality and educational passion, it contributes to the construction of a human world open to the universal values of the Gospel, according to the style of the Salesian Preventive System.
The Institute of the Daughters of Mary Help of Christians counts on the generosity of the Educative Communities, Associations and benefactors to continue to bring aid to the FMA of Ukraine and neighboring Provinces that receive refugees. You can send contributions and offerings, through Donate now or through the methods indicated on the FMA Institute website, designating the Ukraine Emergency in the causal.
See also:
Ukrainians welcomed in Hungary
Aid to Ukrainian Migrants – PLA
FMA engaged on the border with Ukraine – SLK