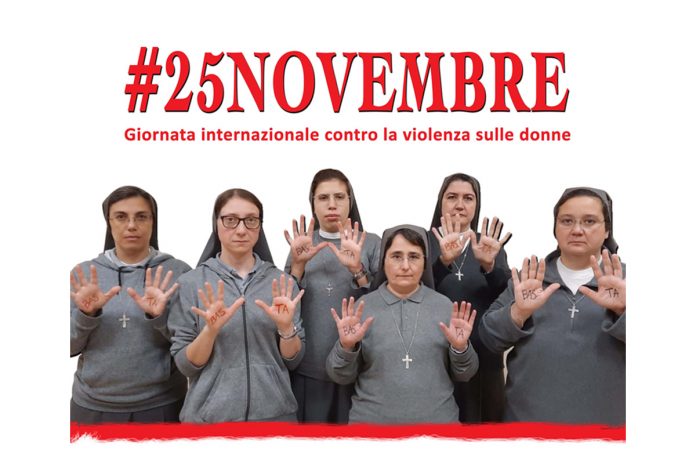 Rome (Italy). On the occasion of the International Day for the Elimination of Violence against Women, which falls on 25 November 2022, the Daughters of Mary Help of Christians of St John Bosco Province (IRO) and the Vides Auxilium ODV – Association born in 2013 and operating in Sardinia, with specific attention to women and their development, both professional and human,  created a campaign to raise awareness and educate about violence against women.
The project is enclosed in the warning with which Pope Francis concluded his homily on 1 January 2022, World Day for Peace, "How much violence there is against women. ENOUGH! To hurt a woman is to outrage God, who took humanity through a woman".
The Campaign poster portrays a group of Daughters of Mary Help of Christians who, looking intensely and seriously at the camera lens, show their open palms with the wording ENOUGH. The explanation below the image expresses the heart of the mission of the FMA Institute, committed to the education of young people, especially young women.
Luigi Serra, President of Vides Auxilium ODV, illustrates the motivations of the Campaign, born from a project carried out in the time of pandemic – "FOR HER.I. – Employment and Inclusion" supported by the Region of Sardinia, Department of Employment,  aimed at women in a state of hardship, some barely of age, who have known violence almost always caused by their partner, accompanied by concrete actions of help in a Salesian spirit and in a horizon of prevention.
"In all these years, also thanks to the implementation of various social projects aimed at the new generations and families, we have experienced how the best way to capture attention, especially in the new generations, is to offer a true and sincere message. We therefore asked the FMA of the Roman Province of St. John Bosco, to which we belong, to collaborate with us in the creation of a manifesto, to be disseminated on social networks and in other ways, to communicate a strong message in a simple and 'family' way , in the style of Don Bosco and Mother Mazzarello.
Women must not feel alone, judged, with  fear of reporting after an act of violence. In the same way,  educational action to prevent violent behavior in young people, based on presumed gender superiority, must be strengthened. By educating children and young people, indirectly, we are also able to reach families", explains Luigi Serra.
Sr. Loredana Locci, Provincial Councilor for Youth Ministry of the IRO Province, who followed the whole project, expresses the commitment of the FMA, "In communion with Vides Auxilium, we felt the duty to show ourselves openly in solidarity with women who suffer every of violence. As Salesian Sisters, we work especially in the educational field, following Don Bosco's preventive system. Every day we meet numerous children and young people in different educational settings: schools, professional training courses, oratories, day centers, family homes, youth centers. Our work seeks to help young people develop a personal identity marked by human and Christian values, through formation courses and the care of significant and humanizing educational relationships.
Specifically, we seek on the one hand, to make women aware of their value, dignity, and potential, and on the other, to make men grow in greater sensitivity, awareness, and respect. Accompanying emotional growth, we believe it is essential to be able to prevent violence and know how to counter it also through reporting".
The VIDES Association (International Volunteering for Women, Education and Development), promoted by the FMA Institute, in its acronym reports two great pillars, indispensable for raising awareness of a dramatic reality such as that of violence against women: education and development. For this reason, the mission that its members carry out on a daily basis towards children, teenagers, young people, and families involved in the many activities, is to strengthen a culture of the other, to get to know and educate themselves on diversity and to acceptance.