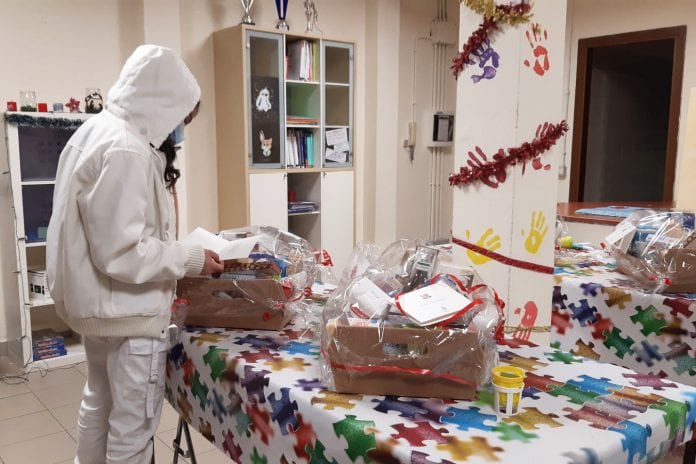 Tor Bella Monaca (Rome). The desire to welcome children and young people from the "Casa mia, Casa nostra" (My house, our house) day care centers in the Tor Bella Monaca district of Rome, supported by the Vides Mic Mag TBM Association, animated the volunteers  who made available time and skills to adapt the spaces to the rules due to the Covid-19 pandemic.
Thanks to the commitment of Vides to these Centers – which allow children and young people in situations of poverty or vulnerability to have a serene and welcoming educational environment, and  to the help of St. Mary Mother of the Redeemer Parish, of the Diocesan Caritas, and of benefactors, it was possible to paint and reorganize the rooms, equipping them with dividers and placeholders and providing masks, visors, thermometers, and sanitizing detergents.
The Day Centers ended the day with a dinner prepared by the volunteers who, with the health emergency, now collect and distribute the food offered daily by some merchants to the families of the Centers, Caritas, and other religious entities for the poor, putting aid received online.
During Christmas time, thanks to the collaboration with the Food Bank, to the collection made by the School of St. Mary Mazzarello of the Daughters of Mary Help of Christians of the Roman Province of St. John Bosco (IRO), and the gift of shopping vouchers offered by benefactors, the Association was able to reach all the families with a substantial gift package. The children and young people received gifts and sweets from the benefactors.
As every year, the Vivenda catering company promoted the 'Santa Tree' initiative, in which each child or young person from the Centers wrote a letter, asking what they desired to receive (school supplies, clothing or other necessities). The letters, symbolically hung on a tree, were received by each employee of the company who, according to the possibilities, took care of what was requested.
The happy faces and expressions of the children and young people  repaid the workers, volunteers, and benefactors who  spent their time to make them and their families experience a Holy Christmas of joy and serenity.