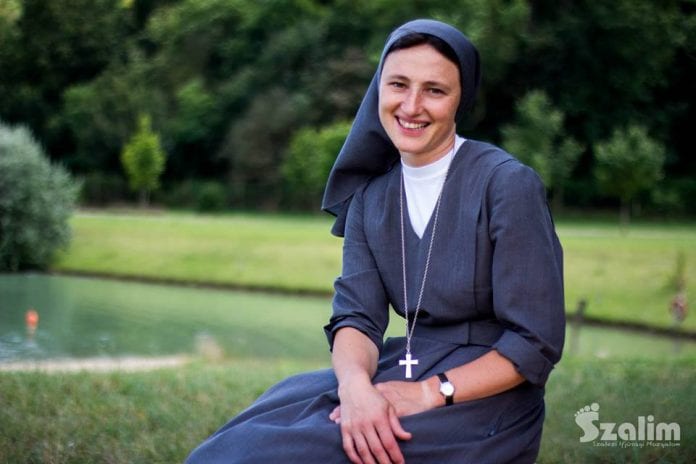 Budapest (Hungary). On 15 March  2021, Sr. Ewa Gamon, Daughter of Mary Help of Christians, of Polish origin and missionary in Hungary, of the Triveneta Province of St. Mary D. Mazzarello (ITV), received the Golden Cross, a medal for civil valor, of the Order of Merit of the Hungarian Republic.
The awards are conferred by the President of the Republic, János Áder, on the two annual national holidays, 23 October and 15 March, to those – natives, residing abroad or foreigners – who have distinguished themselves in favor of the common good of the nation.
The reason for the conferment:
"For the direction of the Oratory at Pesthidegkút of the Sisters of Don Bosco and the education of children to the faith and to ensure that free time is spent meaningfully for children, in recognition of her service as a  consecrated person, to Ewa Gamon, member of the Community of the Sisters of Don Bosco, Daughters of Mary Help of Christians, the Hungarian Golden Cross prize is awarded in the civil section."
A missionary from Mary Help of Christians Province of Poland (PLA), Sr. Ewa graduated in Theology and Catechesis in Wrocław and received a Baccalaureate in Missiology at the Pontifical Urbanianum University in Rome. She arrived in Hungary in 2009, in Mary Help of Christians Community in Budapest and carries out educational and catechetical activities in three state schools and in two parishes. She is also involved in the animation of the Oratory of the FMA work and in Pesthidegkút, a district of Budapest. She collaborates with the Salesians of Don Bosco in Youth Ministry and in the Salesian Youth Movement (SZALIM) of Hungary.
The FMA Institute congratulates Sr. Ewa Gamon for this recognition and hopes for her to continue in her educational-pastoral commitment at the service of the mission in the FMA Institute, in Hungarian society, and in the Church, according to the charism of Don Bosco and Mother Mazzarello.