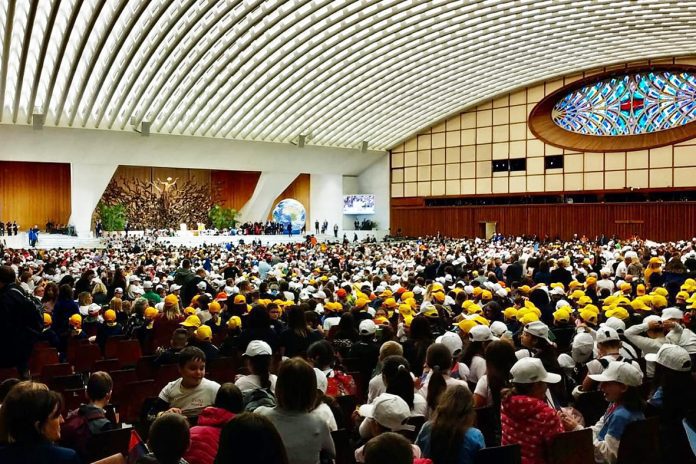 Rome (Italy). On 6 November 2023, in a particularly colorful Paul VI Hall dominated by a large globe, around 7,500 girls, boys, and pre-adolescents coming from 84 countries on the five continents, enthusiastically accepted the invitation that Pope Francis had made to them on October 1 at the end of the Angelus, surrounded by five children:
"Together with them I would like to announce that on the afternoon of 6 November in Paul VI Hall, I will meet children from all over the world. (…) This is a meeting to manifest everyone's dream: to return to having pure feelings like children, because the Kingdom of God belongs to those who are like children. Children teach us the clarity of relationships and spontaneous acceptance of those who are strangers and respect for all creation. Dear children, I'm waiting for you all to learn from you too."
The event, entitled "Children meet the Pope. Let's learn from boys and girls" was sponsored by the Dicastery for Culture and Education and organized in synergy with the Community of Sant'Egidio, the Auxilium cooperative, the regional school offices, Trenitalia and Busitalia, Italian State Railways Group, which made available trains and buses that transported girls and boys with teachers and educators from various Italian regions free of charge and with the support of the Franciscan world, the PerugiAssisi foundation, and the  Italian Football Federation (FIGC).
Some FMA Schools were also present at the event, including 34 boys and girls from Mary Help of Christians and Mother Mazzarello 1st Level Secondary Schools of Turin, of Mary Help of Christians Province (IPI) which, as Sister Enrica Ferroglio FMA said, "They were excited, happy; they radiated enthusiasm and at the same time seriousness from every pore. One of them came with a white shirt and tie, another asked me if he should be addressed as Lei or Voi if he came close. One carried a drawing folder with a portrait of the Pope inside in his backpack. Many wrote him a letter or left a photo of their family."
About fifty foreign delegations arrived from various European countries and other continents. The children of Vietnam sang to the God of creation ("A shower of fresh air addressed to You"). The group from Brazil – Amazonia and Rio de Janeiro recalled in music that "Tudo está interligado nesta casa comum" (Everything is interconnected in this common home). The young friends from the Islands of Samoa and Tonga narrated the challenging journey they faced to get to Rome. The Orchestra of Peace "Aldo Capitini" made up of about fifty boys and girls, with their voices and musical instruments, inspired in music the commitment to becoming builders of peace. The children of the Piccolo Coro dell'Antoniano proposed the song "Bellomondo, you are our home and we will take care of you!" with the letter signed by hundreds of boys and girls in response to Pope Francis' appeal to take care of the world. The clowns contributed to preparing the way for the Pope with their dreams and laughter, and the singer Mr. Rain with the Spanish artist Beret, reminded the little fans that one is a hero only by placing one's wings close to those of others to fly high.
The intense hour spent with Pope Francis showed a path of light: "learning from boys and girls". "That's it! – confirmed the Holy Father – And there is a need to learn from you. I am always happy when I meet you, because you teach me something new every time. For example, you remind me how beautiful life is in its simplicity, and you also teach me how beautiful it is to be together! They are two great gifts from God: being together and with simplicity."
The fatherly closeness, the affable dialogue, the simple conversation as between grandfather and grandchildren, allowed boys and girls from 14 countries sitting around him to freely ask personal and profound questions on the issues that affect them most. Like an authentic animator and effective communicator, Pope Francis responded to the pressing rhythm of questions. He made us reflect and invited to silence. He encouraged us to energetically repeat simple phrases full of wisdom, such as "destroying the Earth is destroying us," "the person who has no friends is a sad person," "guard nature because it is our future," "work gives us dignity," "don't waste your food" … (Complete text).
Peace was at the center of the dialogue and the Pope, before concluding by praying to Hail Mary, asked the children to shake hands. "We talked about many beautiful things, but the most beautiful thing that touches your heart is peace, because you don 't want war, you want there to be peace in the world. Now, all together let us make a peace sign and shake hands with each other; we say goodbye. Now let us greet each other by shaking hands as a sign of peace."
Before leaving, he affectionately blessed numerous sick children coming from "Bambino Gesù" Hospital and willingly put his autograph on the hats and bandanas of many. From the voices of those who happily exited Paul VI Hall, we could hear the emotion and enthusiasm for a unique meeting. "We almost felt like crying… I saw the Pope: a unique emotion! … I've never been in a room with 7,000 children! … An experience that will remain in my heart!".