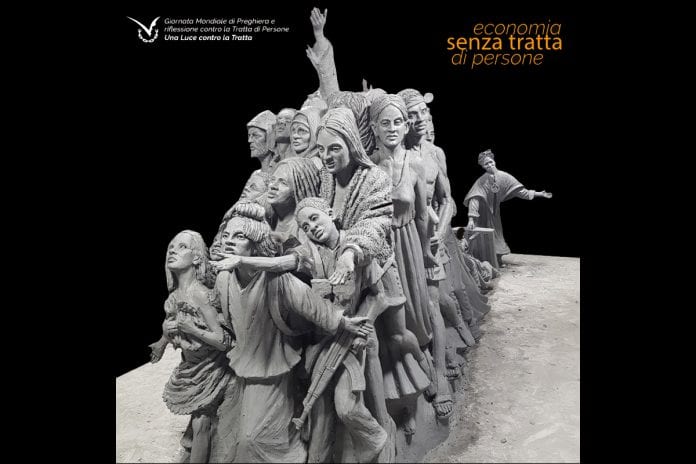 Rome (Italy). On the International Day for the Abolition of All Slavery, which is celebrated on 2 December to commemorate the approval in 1949 by the General Assembly of the United Nations Convention for the Suppression of Trafficking and Exploitation of Persons, the  International Network of Consecrated Life against Trafficking of Persons "Talitha Kum", the International Union of Superiors General (UISG) announces the theme and organization of the World Day of Prayer and Reflection against Trafficking of Persons (GMPT), which will be celebrated on February 8, 2021 (www.preghieracontrotratta.org).
The Institute of the Daughters of Mary Help of Christians has been part of the "Talitha Kum" Network since its birth in 2009. The Youth Ministry Sector, moved by the evangelical certainty of the transforming power of compassion and mercy, which awakens the deep desire for life of many people, especially women and young people, wounded by different forms of exploitation and oppression, collaborates in the strengthening of this Network through the exchange of information, the commitment to prevention, the promotion of initiatives in different contexts, the strengthening of activities against trafficking, in collaboration with the consecrated women of the various continents.
The theme chosen for the GMPT 2021 is "Economy without human trafficking". The organizations that come together to celebrate the day,  8 February  2021, recognize that one of the many causes of human trafficking is the dominant economic model. An economy committed to guaranteeing people's dignity promotes new economic and productive experiences that break with all forms of exploitation and slavery. The Pope's Tweet of 2 December 2020 reads: "Slavery is our "unworthiness because it takes away dignity from all of us."
The symbolic image chosen for the Day is a work of the Canadian sculptor Timothy Schmalz entitled "Let the oppressed go free" (Lk 4), which represents Saint Josephine Bakhita, patroness of the anti-trafficking struggle and protector of victims of this slavery.
The activities proposed worldwide in preparation for the Day, given the situation of the Covid-19 pandemic, provide for a simple prayer to be recited in the family, in the community, in groups. For February 8, the "Online Prayer Marathon against Trafficking" is proposed, which will involve all continents.
The Youth Ministry Sector, in no. 19 of the YM Series, will highlight the celebration of GMPT 2021 and will animate the educating communities to live, in a time of pandemic, the reality of the words addressed by Jesus to the daughter of Jairus, a twelve-year-old girl who apparently lay lifeless: "Talithà kum", which means: "Little girl, I say to you, arise!" (Mk 5, 41).  She immediately got up and started walking, regaining life and dignity.