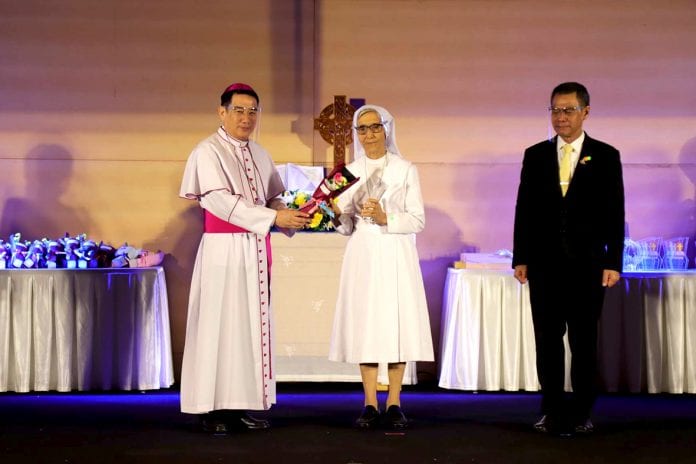 Bangkok (Thailand) On 23 July 2020 in Bangkok, as part of the annual celebration of the "Ecumenical Easter", organized by the Catholic Commission for Interreligious and Ecumenical Dialogue with the Protestant Churches in Thailand and postponed for two months due to the Covid-19 pandemic, 40 'exemplary Christians' of the five Christian Churches were recognized by the Thai government for their testimony of faith.
The Bishop, Msgr. Joseph Chusak Sirisuth, proposed this celebration with the theme of the week of prayer for Christian Unity, "They treated us kindly", with the collaboration of the President of the Ecumenical Commission, belonging to the Protestant Church in Thailand, who made the rooms of their headquarters available.
The Thai Province of St. Mary Mazzarello (THA) was awarded, in the person of the Provincial, Sister Agnese Nipha Rangabpit, as a "Christian organization that promotes the unity of Thai Christians". Being unable to attend the event, the Prize was received on her behalf by Sister Pornphirun Teresa Chandenduang.
The other recognition, as a "Christian religious at the service of the Lord with faith and spirit of sacrifice" went to Sister Anna Grassi, FMA, an Italian missionary in Thailand for 46 years. One field of her mission is the accompaniment of long distance adoptions for Thai children, in collaboration with some associations including VIDES International and VIDES Italy.
Mr. Kittiphan Phansuwan, Director of the Ministry of Religious Affairs, presented the Awards as representative of the Government, and expressed his approval for the beautiful testimonies and the good done in favor of the citizens.
After the awards, the representatives of the Christian Churches – the Vice President of the Church of Christ in Thailand, the Secretary of the Baptist Church Foundation, the Representative of the Christian Cooperative in Thailand, the Representative of the Seventh Day Adventist Church Foundation, and Msgr. Joseph Joseph Chusak Sirisuth , member of the Episcopal Conference for Interreligious/Ecumenical Dialogue – took turns in commenting on some passages of Holy Scripture, in keeping with the theme "They treated us kindly". Fr.  Saneo Damneunsaduak, Secretary of the Commission, was the moderator of the five speakers.
The event ended with the final prayer of praise and thanksgiving to the Lord in the style of Taizé, presided over by Bishop Joseph Chusak.