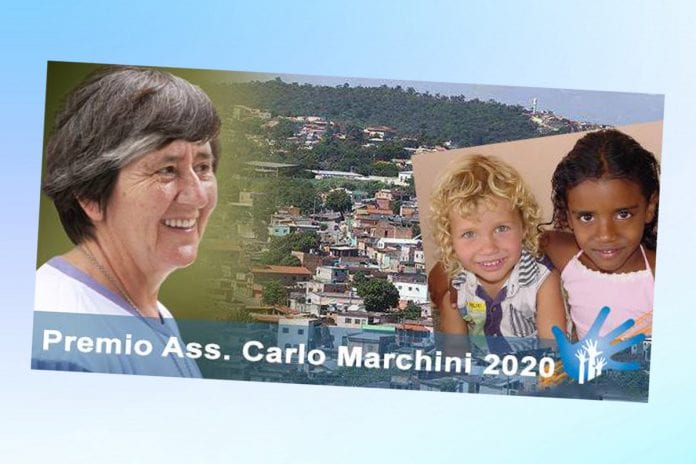 Belo Horizonte (Brazil). On 17 October 2020 at Brescia (Italy) the 2020 Carlo Marchini Prize will be awarded to a Daughter of Mary Help of Christians from the Brazilian Province of Mary Mazzarello (BBH).
"Here I am, send me!" (Isaiah 6:8), in this year marked by the challenges and sufferings caused by the pandemic, "the call to mission, the invitation to come out of oneself for love of God and neighbor is an opportunity for sharing, for service, and for intercession ".
In the award ceremony of the XXX Cuore Amico Award by the Associazione Cuore Amico Fraternità Onlus ‒ ‒ which aims to support the activity of missionaries in the world, the Carlo Marchini Prize 2020 will also be awarded.
Instituted by the Associazione Carlo Marchini Onlus for the Salesian works in favor of poor children in Brazil, that rewards Sister Cunha (da) Teles Celuta, Daughter of Mary Help of Christians, missionary in Brazil, for her commitment in favor of children and young people of the Brazilian communities of Nova Contagem (Belo Horizonte ) and Aparecida de Goiânia.
The mission of Sr. Celuta
Sr. Celuta is originally from Silvânia, a municipality of Brazil in the state of Goiás. After making her religious profession in Belo Horizonte in 1987, she began an intense work in various Salesian communities in the states of Goiàs and Minas Gerais.
From 1992 to 1997 she started a shelter for street girls in the Salesian community of Contagem (Minas Gerais), an experience that profoundly marked the life of Sister Celuta.
From 1998 to 2002 she moved to the Nova Contagem bairro, on the outskirts of Belo Horizonte, starting the construction work of the Chiara Palazzoli Reception Center (Minas Gerais), built by the Carlo Marchini Association.
From 2003 to 2017, in Aparecida de Goiânia (Goias), she contributed to the construction of a Giovanni Pini Youth Center which stands on the city's landfill.
Sister Celuta collaborated with the Carlo Marchini Association allowing her to help many children in difficult situations. She has always fought for the rights of children and adolescents: "I believe that every young person, even the unhappiest, has a chord that vibrates within them, and if stimulated, as Don Bosco wanted, every life can change for the better. The moments of greatest happiness in my life were those in which I was close to the little ones and the poor to safeguard their dignity as those loved by God."