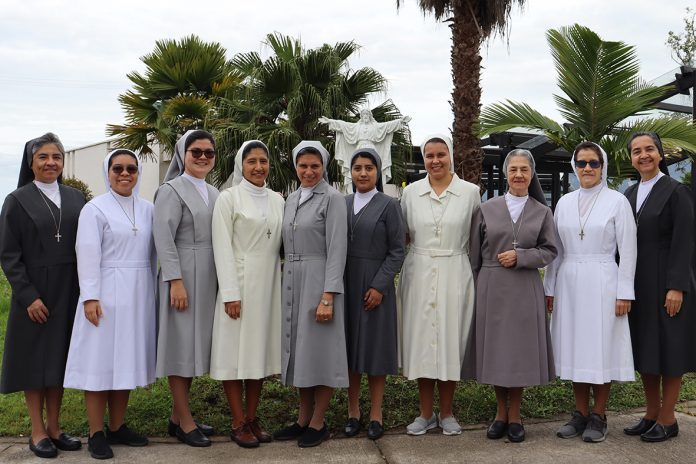 Fusagasugá (Colombia). From 18 to 21 August 2022, the meeting of the Social Communication Coordinators of the Interprovincial Conference of Bolivarian Nations (CINAB) was held at the Villa Maria Spirituality House in the Province of Our Lady of the Rosary in Chiquinquirá (CBC).
Present were: Sr. Grethel Álvarez of the Province of Our Lady of Peace of Bolivia (BOL); Sr. Doris Jaimes, Province of Our Lady of the Rosary of Chiquinquirá (CBC); Sr. Bertha Vivas, Province of Our Lady of the Snow (CBN); Sr. Olga Pineda and Sr. Laura Pasión, Mary Help of Christians Province (CMA); Sr. Lísber Zuluaga, St. Mary Mazzarello Province (CMM); Sr. Ruth Sarango, Sacred Heart Province (ECU); Sr. Graciela Castillo, St. Rose of Lima Province (PER); and Sr. Sarahi Contreras, St. John Bosco Province (VEN).
With the slogan "We are committed to creating educational-communicative environments that generate life," the meeting aimed to share and learn about the realities of the communicative-social area of the eight participating Provinces, to offer training on communication tools, and to collaborate in the drafting of the Conference Communication Plan.
During the meeting, the participants received online greetings from Sr. Maria Ausilia De Siena, General Councilor for Social Communications, and Sr. Cecilia Camacho, President of CINAB.
In the reflection on the educational communication path of the Conference there were also some online formative interventions: Sr. Susana Li, of Our Lady of the Angels Province (CAR) made a contribution on "Our FMA mission (communication) in the contemporary world" and Sr. Maria Helena Moreira, Councilor for Social Communication from 2015 to 2022, of Mother Mazzarello Province (BMM) presented the "Guidelines on the presence of the FMA in social networks."
The days were enriched by the presence of Sr. Edith Franco, Provincial of CBC who in the Goodnight, shared the key words to transform communication into a source that generates life. The event was also attended by Andres Camilo Barrios, the Communicator who will hold a workshop on "Photography and digital marketing".
In a climate of fraternity and synodality, which favors the spontaneity of the interventions, the participants continue in the process of drawing up the CINAB 2022-2027 Communication Plan, to create more and more educational-communicative environments that generate life.