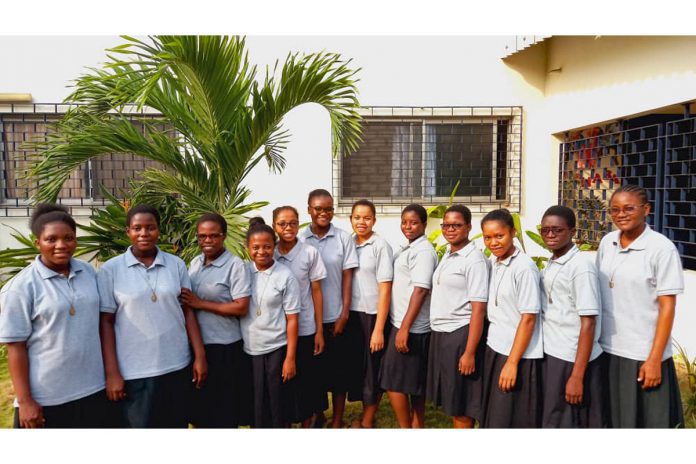 Abidjan (Ivory Coast). From 10 to 13 January 2022 the Novices of the 2nd year of the Novitiate Mary Help of Christians of Abidjan, Ivory Coast, Mother of God Province (AFO), participated in an online seminar animated by Sr. Pascaline Affognon, FMA, Secretary and Communication Coordinator of the Province, on the theme, "Called to live in digital environments as Salesian educators".
Sr. Pascaline presented in-depth the formative document "Guidelines on the presence of the FMA in the Social Networks", created by the Communication and Formation Sectors of the FMA Institute, illustrating and clarifying to the young some concepts relating to communication, technologies, networks, social issues and their origins. She also offered the novices some useful tools in pastoral work with young people. Finally, she gave some pointers on how to write an article and an interview.
The Novices also had time for personal study, in which to deepen some points of the Encyclical Letter Fratelli Tutti and the Message of Pope Francis for the 51st Day of Social Communication: "Do not be afraid, because I am with you" (Is 43:5). Communicating hope and trust in our time.
From the interviews carried out among them as an exercise, the impressions of the young women emerged:
"The meeting offered us some tools for presenting content with the Power point and some guidelines on how to use social networks with prudence as Salesian educators, called to communicate human and Christian values in the digital environment. A participatory methodology was used: presentation, explanation, personal reflection, group sharing, and practical computer work". (Prisca)
"The experience was positive; I learned a lot of things. The formator combined theory and practice well, creating a fraternal atmosphere. The contents were delivered with clarity and simple terms. It was also an opportunity to learn how to live in social networks as a Novice and as a future religious of the Institute of the FMA, dedicated to the integral education of young people." (Marisa)
"I discovered that communication is first of all a relationship with oneself, with God, and with others. I appreciated the simple way of making a Power Point with an image and a clear thought. As a Salesian educator, I am always among young people and this is a concrete way of helping them in the digital world. Also, I will be more aware of everything they are experiencing!" (Louisette)
"I enjoyed this seminar and the way the content was delivered to us. She clarified our ideas on the concepts of communication, technology, and social networks. I learned how to make a Power Point, a poster and also an article and an interview. I believe that this formation will help me in communicating with young people, educators, and my community. I will also make good use of the means of communication at my disposal, such as my computer and mobile phone. We are grateful for this formative opportunity." (Marie Victoire)