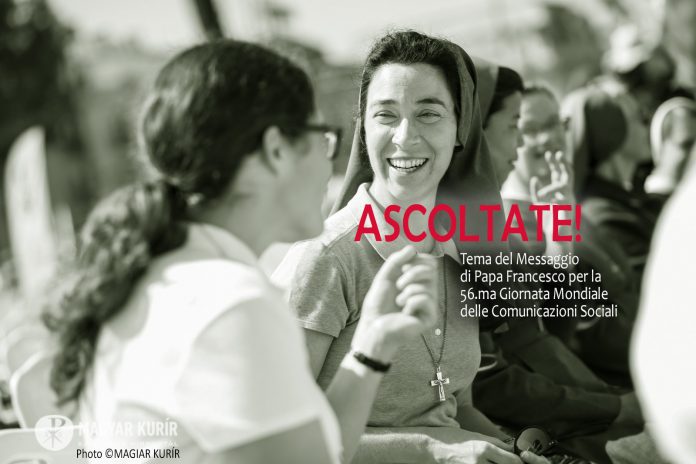 Rome (Italy). The theme chosen by Pope Francis for the 56th World Communications Day, which will be celebrated in May 2022, was announced:
Listen!
An explicit note on the reasons related to the current time:
"The pandemic has affected and wounded everyone, and everyone needs to be heard and comforted. Listening is also fundamental for good information. The search for truth begins with listening. And so does witnessing through the means of social communication.
Every dialogue, every relationship begins with listening. For this reason, in order to grow, even professionally, as communicators, we need to relearn to listen a lot".
After the exhortation to get moving, to come and see, of the 2021 Message – «Come and see» (Jn 1:46). Communicating by encountering people where and as they are
– in the Message for World Day 2022, Pope Francis asks the world of communication to learn again how to listen.
The Biblical reference "pay attention to how we listen" (cf. Lk 8:18), explicitly pays attention to the way in which to listen: "To be able to truly listen requires courage, and a free and open heart without prejudice".
The Message is extended to the entire ecclesial community, invited to rediscover listening as essential for living synodality:
"At this time when the whole Church is invited to listen in order to learn to be a synodal Church, we are all invited to rediscover listening as essential for good communication".
The announcement of the Theme of the 56th  World Communications Day comes during the celebration of the XXIV General Chapter, an experience of faith and discernment, in which the Chapter members, Daughters of Mary Help of Christians from all over the world are called to  listen to the Spirit and the appeals of God present in the today of history, to build with young people communities that generate life in the heart of contemporaneity.