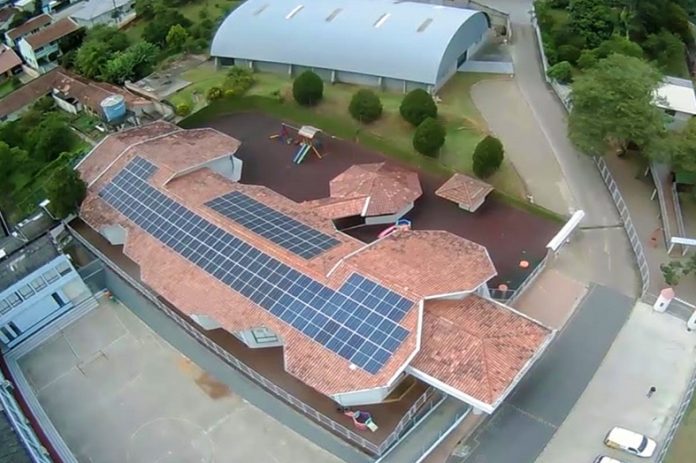 Rio do Sul (Brazil). The Institute of Mary Help of Christians in Rio do Sul, of the Brazilian Province of Our Lady Aparecida (BAP), has decided to adopt solar energy as an energy source for the school complex.
Attentive to ecological issues and environmental sustainability, and animated by the desire to offer the best to students and collaborators, also in terms of innovation, the Management of Mary Help of Christians Institute decided to start the year 2022, in which the Educating Community celebrates 94 years of educational work, by making this strategic investment.
By choosing this source of energy, the school aligns itself with the values defended by Pope Francis in the Encyclical Letter "Laudato Si'", published in 2015, which draws the attention of Catholics to the urgent need to seek solutions to the problems linked to the life prospects of Planet Earth.
The IMA initiative is also in line with the Deliberation of the Chapter Assembly, which allowed itself to be challenged "by the cry of the earth", deciding to undertake, together with the whole FMA Institute, a "concrete and continuous path of conversion to 'integral ecology, adopting the seven Laudato Si' objectives online, in the spirit of the Preventive System."
Solar energy is a 'clean' renewable source. It does not release gas, it does not produce noise, it does not pollute the air, land, or water, it does not interfere with global warming, and it is not linked to the production of acid rain.
On 2 April 2022, the phase that gives substance to the project was successfully completed, transforming the dream into reality.  IMA contacted the company Domus Solar which installed 200 modules of 510W and 2 inverters of 40 kW. The entire school complex will soon be powered by the energy generated by the photovoltaic panels placed on the roofs of the main building and the IMA Kindergarten.
Source: https://ima-rs.com.br/