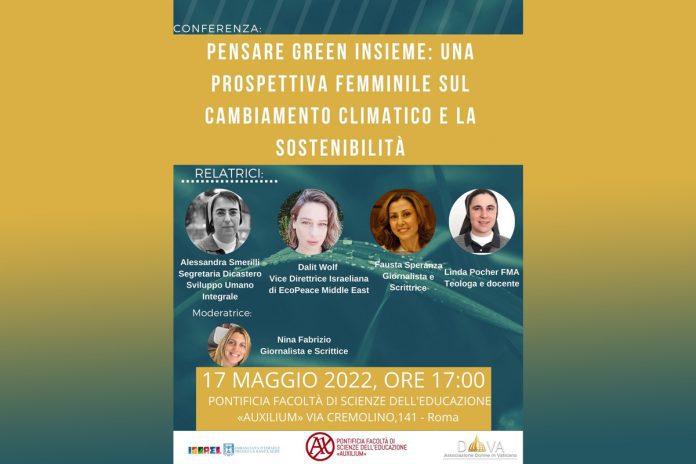 Rome (Italy). On 17 May 2022, from 17:00 to 18:30 (Italian time), the International Symposium "Thinking green together: a feminine perspective on climate change and sustainability", focusing on developing a global ecology from a feminine perspective will be held at the Pontifical Faculty Education Science "Auxilium" in Rome.
The event is the result of the union of the competences of the Embassy of Israel to the Holy See and the Pontifical Faculty of Education Science "Auxilium", which intend to underline the importance of environmental issues and raise awareness of new global challenges that humanity must face.
The Symposium is an opportunity for research and dialogue, to promote cooperative activities, to live in harmony, and to protect the 'common home'.  In fact, global environmental deterioration calls for a review of policies and for rethinking the economy and social development in terms of sustainability. Faced with such serious and urgent challenges, many people and organizations all over the world are sharing the same concern and are committed to seeking concrete solutions to the global environmental crisis.
The speakers, including two Daughters of Mary Help of Christians, are all women of great experience and professionalism, in the hope that women will be increasingly involved and participatory in human society and that, with their specific skills, they can "make a difference" and help to heal the world:
Professor Alessandra Smerilli, Daughter of Mary Help of Christians, Secretary of the Dicastery for Promoting Integral Human Development, Full Professor of Political Economy at the Pontifical Faculty Educational Science «Auxilium».
Dr. Dalit Wolf Golan, Israeli Vice Director of the Eco Peace Middle East Association, an organization that brings together Israeli, Palestinian, and Jordanian environmentalists, promoting cooperative efforts to protect the shared environmental heritage and create the conditions necessary for lasting peace.
Dr. Fausta Speranza, journalist and writer, she worked in the foreign editorial office of L'Osservatore Romano and was the first woman to deal with international politics in the newspaper of the Holy See. Today she works at the Dicastery for Communication.
Professor Linda Pocher, Daughter of Mary Help of Christians,  is Professor of Fundamental Theology, Mariology, and Christology at the Faculty of Educational Science «Auxilium».
The Symposium will be moderated by Dr. Nina Fabrizio, journalist and author, who works in the Italian Chronicles editorial office of ANSA where she follows religious information in particular. She collaborates with the "National newspaper" and "Swiss Italian Radio".