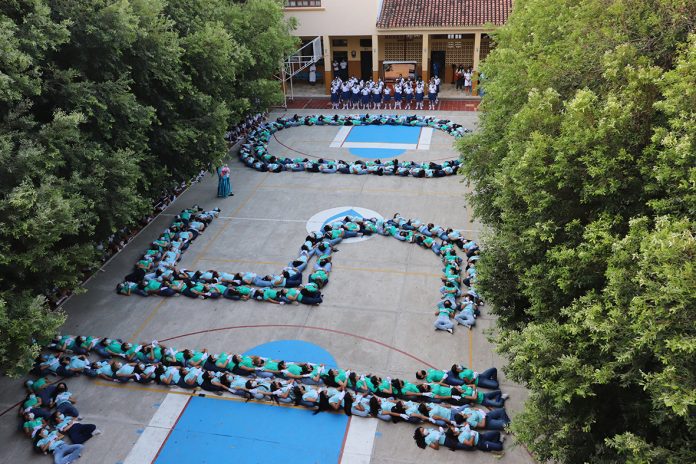 Santa Marta (Colombia). On 18 March 2022, the students of Mary Help of Christians Higher Normal School of Santa Marta, of Mary Help of Christians Province (CMA), welcomed the Provincial, Sr. María Victoria Montoya, with a choreography inspired by the 150th anniversary of the Institute of the Daughters of Mary Help of Christians.
For the Educating Community of the Higher Normal School of Santa Marta, the best way to celebrate the 150th anniversary of the Institute after the lockdown due to the Covid-19 pandemic, consisted in being able to meet again, to return to live in the school and experience the joy of 'face to face' relationships, to continue dreaming, and to realize together again experiences and projects that give and communicate life.
The Provincial's visit to the school complex was an opportunity to express gratitude for the gift of the Salesian charism. Joy and cooperation constitute in this School that forms teachers, not only a charismatic experience but also a cultural imprint and a pedagogical mediation.
The girls of the Lyceum and Middle School, guided by their physical education teachers and by the young teachers in formation, prepared a festive welcome where dance, song, and theater multiplied the joy, as in Cana, making visible the certainty that "Mary walks in this house". So many experiences kept in the heart make her maternal presence felt firsthand, which is manifested through care, protection, salvation, and education.
Sr. Mònica Tausa, Principal of the Higher Normal School Mary Help of Christians, comments on the inspiring principles of the experience lived by the girls and shared through a video:
"The return to activities highlighted the need we have for each other, the lack of being in school that everyone felt, the need for loving accompaniment. In the Salesian experience today, as yesterday, the courtyard, group life, feasts, movement, music continue to be essential educational elements, which we enjoy and value personally, and which we share virtually".