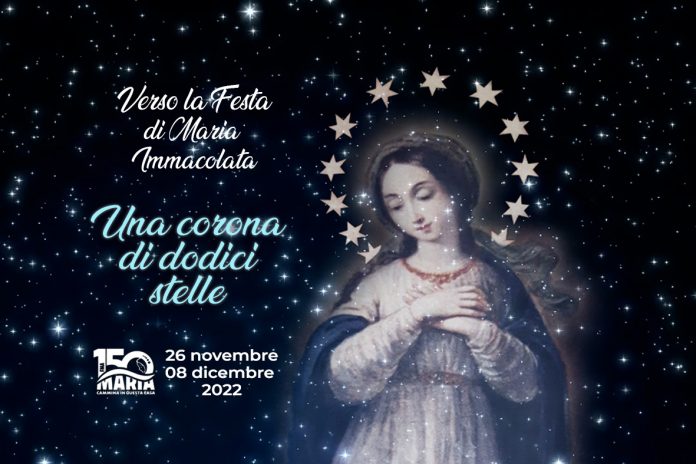 Rome (Italy). From 26 November to 8 December 2022, the Salesian Family Sector of the Institute of the Daughters of Mary Help of Christians, in collaboration with the Communication Sector, is proposing a journey with texts and videos in preparation for the Feast of Mary Immaculate, as a hymn of thanksgiving and praise to Mary on the 150th anniversary of Foundation.
"A Crown of twelve Stars" is the title of this journey, taken from the biblical passage of the Apocalypse, "A great sign appeared in the sky, a woman clothed with the sun, with the moon under her feet, and on her head a crown of twelve stars." (Ap 12: 1-2)
The Feast of the Immaculate Conception also has a particular charismatic connotation, as the common denominator of the most important events in the life of Don Bosco who recognized that: "All our greatest things had their beginning and fulfillment on the day of the Immaculate." (MB XVII, 511)
In presenting this itinerary towards the Feast, Sr. Leslie Sándigo, Councilor for the Salesian Family of the FMA Institute, explains the reasons for the twelve days:
"Our preparation for the Feast of the Immaculate Conception wants to be an expression of gratitude to Mary, prolonged in the concreteness of the life of the individual FMA and of the various Educating Communities scattered throughout the world, which will be represented by 12 stars, to crown the Immaculate at the end of this year of celebration of the 150th anniversary of the foundation of the Institute."
The journey will therefore start on 26 November. For each day, a video is proposed which includes:
– the intention for a member or category of the Educating Community (families, children and young people, teachers, etc.);
– a reference to charismatic sources, drawn both from the Cronistoria and from the Letters of Mother Mazzarello, to evoke the life of the origins;
– the words of the Mother General of the FMA Institute, Sr. Chiara Cazzuola, that contextualize the theme in today and project into the future;
– the testimony of representatives of members of the Educating Communities, from different parts of the world, who share a significant experience of Mary's presence in their lives.
At the end, all are invited to join in prayer around the Immaculate Virgin, to express thanks and invoke her blessings, so that in the Daughters of Mary Help of Christians, in the Educating Communities, and in the young people entrusted to their care, the certainty that Mary is a presence that accompanies and makes holiness flourish in people's hearts and in the environment, through the work of the Holy Spirit.
The proposal concludes with an invitation to everyone on December 8, to entrust the FMA Institute to Mary Immaculate.
The texts are already available, while the video will be published in a short time in order to guarantee that can be viewed by the whole world.