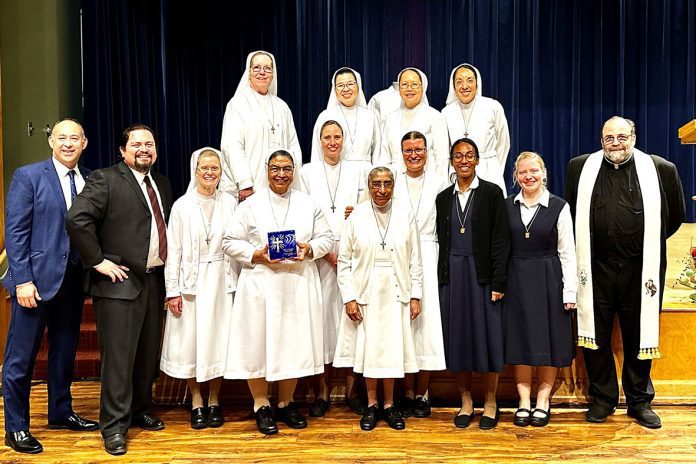 San Antonio (United States of America). On 13 April, the day of the commemoration of Mother Mazzarello, the Daughters of Mary Help of Christians of Mary Immaculate Province (SUO), participated in the charity dinner "Fishers of Men", organized by the radio station Guadalupe Radio Network, in which they received an Award in recognition of apostolic work among the young people of the city of San Antonio, Texas. The event took place at Holy Trinity Church of San Antonio, with the participation of numerous benefactors of the radio and local Catholic exponents.
The "Fishers of Men" Award is given annually to individuals, families or organizations that promote evangelization in the city. The FMA of the SUO Province collaborated on various occasions with the Guadalupe Radio Network of South & Central Texas to foster opportunities for the young people of the province realities to collaborate in the mission of evangelization through the radio.
The Provincial, Sr. Rosann Ruiz; Sr. Bernadette Mota, Responsible for the Missions; and Sr. Sydney Moss, Delegate for Youth Ministry of the Province, received the Award on behalf of all the FMA of the Province.
In her brief discourse of gratitude, Sr. Rosann called attention to the appropriate name of the radio station – Guadalupe – emphasizing the fundamental action of Mother in all evangelization efforts. She also recalled Mary's direct intervention in the Foundation of the FMA Institute. She then concluded by proposing to all those present the invitation to always turn to Our Lady for the success of their projects, according to the words of Don Bosco, "Trust in Mary Help of Christians and you will see what miracles are!"
The event was a manifestation of gratitude, both on the part of the people for the work and testimony of the Sisters, and on the part of the FMA for this recognition of the SUO Province and for the opportunity to forge new relationships and expand the mission in favor of the education and evangelization of young people.