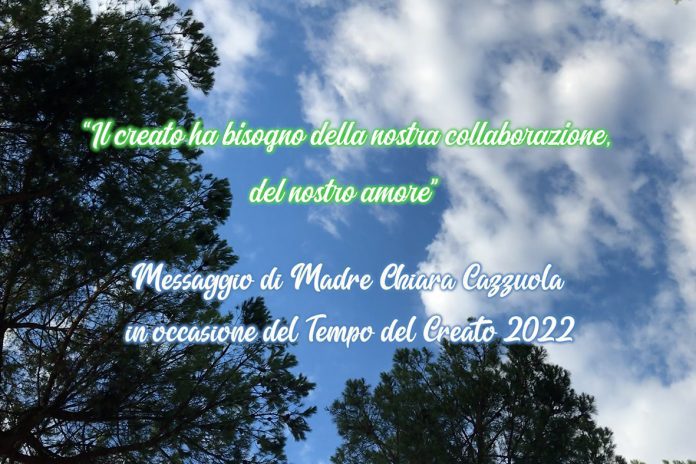 Rome (Italy). On the occasion of Time of Creation, an annual ecumenical time of prayer and action for the Common Home, from 1 September to 4 October 2022, the Mother General of the Institute of the Daughters of Mary Help of Christians, Sr. Chiara Cazzuola, reaches all the FMA and the Educating Communities.
Dearest Sisters and dearest Educating Communities,
From the garden of the Generalate I want to remind all of us of the great event that will be celebrated from 1 September to 4 October: the celebration of the Season of Creation, an ecumenical time. We know well that we fit in as Catholics, and that this time was originally inspired by the Ecumenical Patriarchate of Constantinople and has since become an opportunity for everyone. Already St. John Paul II, and even earlier, St. Paul VI, had in some way invited Christians and Catholics to take into consideration the voice of creation, because the difficulty was already perceived in past years that today appears much more evident.
This time reminds us that we are citizens of a planet that in order to live, needs our love and respect. It is interesting that Pope Francis reminds us first of all of prayer. This is very beautiful, because it is not only an ecological discourse as an end in itself, but it becomes a discourse of real spiritual conversion, and not only of personal conversion, but of community conversion. It is the Pope who asks all Christians and Catholics in the Message he sent.
This year the theme is "Listen to the voice of creation". We can resume the reading of Laudato Si' to note all the invitations and all the emphases that Pope Francis himself makes to us in this Encyclical. He is calling us to live the vocation of being guardians of God's work which is creation and this, according to what Laudato Si' says, corresponds to a basic choice which is a fundamental experience of the Christian life. Thus, it is very important in this Time to revive our faith, to read in our nature, in this planet of ours, the signs of the presence of God, and also to review the signs of the presence of humanity that do not respect this planet. Creation needs our collaboration, our love.
Allow me to re-read what we chose in the XXIV General Chapter, which is the Chapter Deliberation in which we committed ourselves to listen to "the cry of the earth, the cry of the poor, the cry of the young". We are committed "to involving the whole Institute in a concrete and continuous path of conversion to integral ecology", where we have already heard the meaning of integral ecology explained many times. It is a total dimension of life, which does not only see us as individuals, but as a community and as creatures who inhabit this planet.