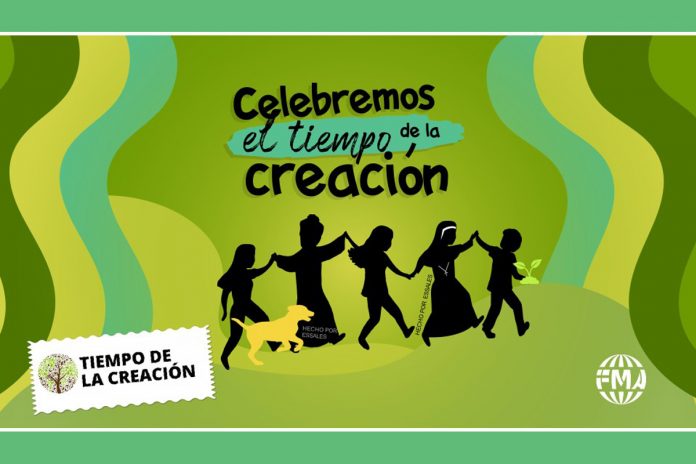 America. On 28 October 2022, about 400 young people from 18 nations, with the Educating Communities of the Daughters of Mary Help of Christians of the Interprovincial Conferences of America South Cone (CICSAL), of Mexico, Antilles and Central America (CIMAC), and of the Bolivarian Nations ( CINAB) met through a virtual platform to celebrate together the conclusion of the Season of Creation 2022 – which took place from 1 September to 4 October 2022,  and share some experiences lived of listening to the voice of Creation.
The encounter was organized by a team composed of Natalia Gil Salas and Sr. Karen Margarita of Mary Help of Christians Province Colombia (CMA), Sr. Ana Cristina Chavira of Mother of the Church Province (MMO) of Mexico, Sr. Ana Beatriz Solito and Allison Rosemary Arévalo, of the team ESSALES of El Salvador, Province of Most Holy Savior (CAM), Sr. Luján Bica Díaz and Sr. María Baffundo of  Immaculate Conception Province (URU) of Uruguay.
Motivated by the Chapter Deliberation, this group of FMA and animators, together with the Youth Ministry Sector of the FMA Institute, summoned young people to arouse or make known youth leadership in the ecological field already existing in the Provinces, and to encourage them to be promoters of change through a more sustainable lifestyle.
Various ecological experiences were presented, grouped into seven categories according to the seven objectives of Laudato Si' that concretely showed the response to the cry of the poor and of the Earth.
In these experiences, the young people have shown empathy and generosity towards people who suffer, creativity in living catechesis and prayer in the perspective of integral ecology, commitment to ecological education, promoting the recycling of materials, welcoming the most vulnerable, the capacity for resilience in difficult political situations, always showing their unwavering hope for a better society.
The celebratory moment, which lasted two hours, was animated by two young people from the Salesian Youth Movement, Liliana Aracely Amaya Torres from Mexico and Juan José Salazar Pineda from Colombia. In the dialogues, the two presenters took up the elements of Salesian spirituality and some phrases of Don Bosco and Mother Mazzarello, wisely linking each category with the Salesian charism in order to make the presence of the Holy Founders perceived.
Participants were asked to choose the project or experience most relevant to them. With this choice, each one expressed what he/she wishes to live and to do in the Educating Community, in the family, and in their own context.
"The urgent challenge of protecting our common home includes the concern to unite the whole human family in the search for sustainable and integral development, since we know that things can change" (LS 13).