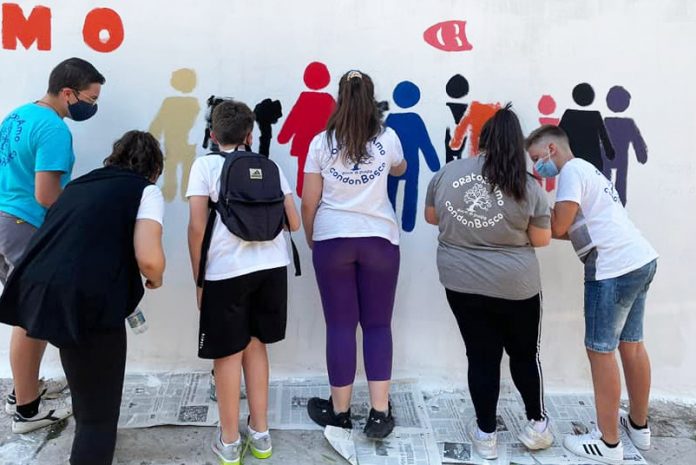 Ruvo di Puglia (Italy). On 16 July 2021, in the courtyard "OratoriAMO con Don Bosco" in Ruvo di Puglia (Bari), in the Southern Province of Our Lady of Good Counsel (IMR), an event took place as part of the Project Con(N)essi, realized by Salesians for Social with TGS (Youth and Social Tourism) and CGS/Cnos-Ciofs (Sociocultural Youth Cine-circles), in collaboration with the Ministry of Labor and Social Policies,  to combat and prevent bullying and cyberbullying, with the inauguration of a mural made by boys and girls and animators of the Youth Center Oratory (OCG).
In the presence of Dr. Monica Montaruli, Deputy Mayor and Councilor for Social Policies, the Project Managers recounted the journey, which began in January 2021, with the boys and girls between 12 and 15 years old of the OCG and the students of the Ciofs/fp Puglia, merged into the creation of some videos and the mural in via Acquaviva, next to the entrance to the OCG football field.
In the first phase of the Project, formation meetings were held by Dr. Maria Pagano, psychologist, who from February to April 2021, worked with groups of minors, parents, and educators to learn about and study the phenomena of bullying and cyberbullying, looking for  solutions and methods of prevention.
With the parents, the journey focused on the idea of a Decalogue of good rules to be drawn up and followed, in agreement with the children, to combat these phenomena.
In the second phase, the boys and girls were supported by social entertainers to produce an awareness campaign using the most familiar communication languages: slogans and hashtags, videos, images, and logos. The young people actively worked to tell the problems highlighted in a direct way.
From June to the first days of July 2021, the boys and girls and the animators created the mural, painting, on the large white wall, slogans and images to "say no to bullying and cyberbullying".
At the end of the presentation of the Project, the boys and girls showed the fruit of their work to Dr. Montaruli, and the plaque next to the mural with the logo of the Project was discovered.
The plaque shows a QR code that refers to the website, created to tell the project, with photos and videos of what has been achieved in recent months by the various actors.
Entirely designed and colored by the OCG boys and girls, the mural is a clear message for the city's minors: together we can fight bullying!