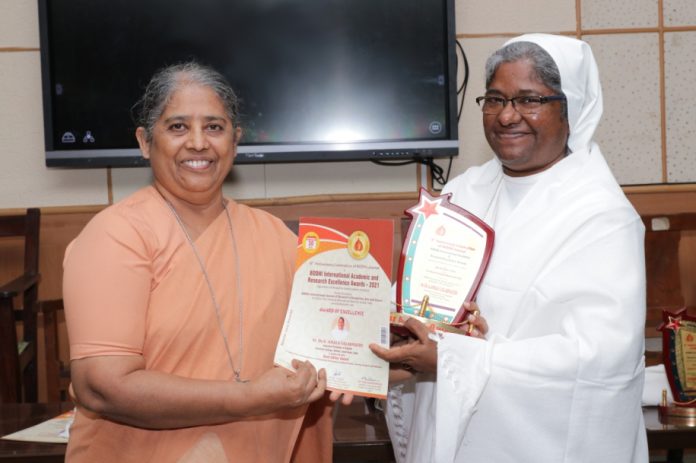 Madurai (India). On 28 October 2021 in Madurai, Tamil Nadu, the "International Awards for Academic and Research Excellence" were bestowed, established by the International Journal of Research in Humanities, Arts, and Science ), which this year celebrates its 6th anniversary, in collaboration with English Critic, an academic quarterly magazine.
Sr. Amala De Rose, Daughter of Mary Help of Christians of Mary Help of Christians Community of Katpadi, Vellore, of St. Thomas the Apostle Province of Chennai (INM),  received the "Excellence Award" in recognition of her skills in school administration, teaching, research, and publication of essays. Sr. Amala is Vice Principal of Auxilium College, Katpadi, Vellore, which is part of the Institutions of Higher Studies of the FMA Institute (ISS – FMA Asia).
The purpose of the BODHI Magazine Annual Award is to recognize those who have made significant contributions to academic excellence by promoting and initiating change processes in the field of educational and developmental disabilities over a considerable period of time.
The BODHI International Journal of Research in Humanities, Arts, and Sciences is a quarterly online journal, supported and published by the Center for Resource, Research, and Publication Services, (CRRPS) India. It is committed to bringing together academics, researchers, and students from around the world who work professionally to improve the quality of academic careers and society through new contributions and aims to promote interdisciplinary studies in the humanities, arts, and sciences.
Sr. Amala De Rose was awarded by the Superior of the Sisters of St. Charles Borromeo.