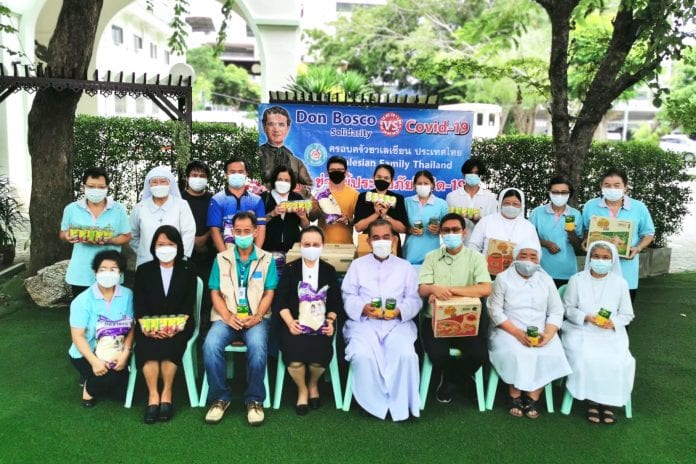 Bangkok (Thailand). On 17 June 2021, the Salesian Family of Thailand met at the headquarters of the San Paolo Province of the Salesians of Don Bosco (THA) to prepare packets of food to donate to villages affected by Covid-19 and to migrants from Myanmar.
Covid-19 infections are still numerous in Thailand. In many provinces there are people who contract the virus in large factories, which spreads to adjacent villages. In addition, due to political instability in Myanmar, some Burmese citizens, especially from border areas, seek refuge in Thailand.
The Provincial Vicar, Fr. Aaron Alcoseba, with some SDBs, Daughters of Mary Help of Christians from the Province of St. Maria Mazzarello (THA), Salesian Cooperators (ASSCC), members of the Association of Mary Help of Christians (ADMA), Sisters Handmaids of the Immaculate Heart of Maria (SIHM), Daughters of the Kingship of Mary (DQM), Sisters of the Kingship of Mary (SQM), and Past Pupils of Don Bosco, joined forces to bring relief to the population.
500 packages with rice and various long-life foodstuffs were prepared for villagers in Khao Yoi District, Phetchaburi Province, and Ban Pong District, Ratchaburi Province and 100 packages for Myanmar migrants living along the border, in the Kanchanaburi Province.
The initiative was promoted and coordinated by the Planning and Development Office (PDO) of the SDB Province, as part of the "We are all in the same boat" project. Thanks went to Fr. Sarawin Phatsrirueang, Deputy Director of the Social Development Center of the Diocese of Ratchaburi, for making food available to be distributed to people affected by Covid-19; and to Mr. Surasit Jit-uthat, of the Catholic Office for Emergency Relief and Refugees (COERR) in Kanchanaburi, for distributing parcels to Myanmar migrants.
Since the areas affected by the Covid-19 pandemic are in lockdown and that of the migrants is difficult to reach, the members of the Salesian Family have expressed gratitude to the 'Diocesan Center for Social Action' in Ratchaburi (DISAC) and to the COERR in Kanchanaburi for having acted as bridges in bringing food packages to people in need.
The Salesian Family in Thailand accepted Pope Francis's appeal of 27 March 2020: "On this boat… are all of us… The Lord asks us and, in the midst of our tempest, invites us to reawaken and put into practice that solidarity and hope capable of giving strength, support, and meaning to these hours when everything seems to be floundering".