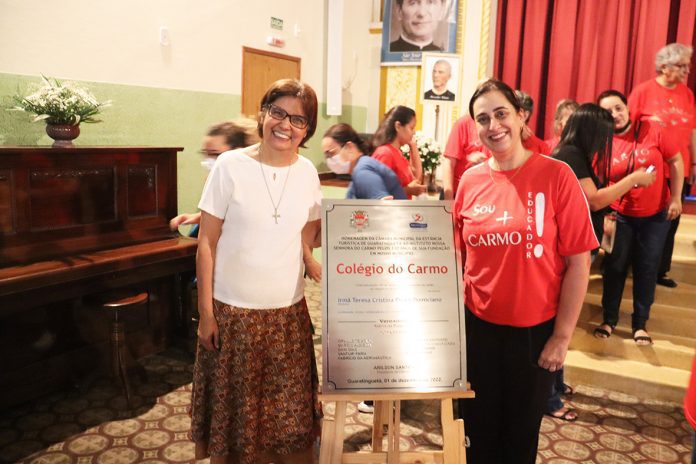 Guaratinguetà (Brazil). On 1 December 2022, in  Don Bosco Hall of Our Lady of Carmel Institute – Colegio do Carmo – in Guaratinguetà, São Paulo, in the Our Lady Aparecida Province (BAP), the official tribute ceremony of the City Council was held for the 130th anniversary of the foundation of the educational institution, with "the mission of educating generations and transforming lives."
On 16 March 1892, a group of 12 pioneer Daughters of Mary Help of Christians, including a Brazilian, Sr. Anna Do Conto, came from Lorraine where they had arrived on March 14, to Guaratinguetà. Msgr. Giovanni Filippo, founder of the work, had prepared for them the rooms used as a school, with annexed laboratories and oratory. The house was the first seat of the Daughters of Mary Help of Christians in Brazil, with the Animator Sr. Teresa Rinaldi.
Today Nostra Signora del Carmine Institute, in addition to the School, from Kindergarten to middle school, hosts the FMA Memorial of Brazil, a charismatic journey on the arrival of the first FMA in Brazil which retraces the main stages of the development of the FMA work in Brazil, marked by the presence of Mary Help of Christians.
The Tribute for this significant anniversary of presence, which occurs on the 150th anniversary of the Foundation of the FMA Institute, was born from an idea of the collaborator, Luiz Fernando Miguel, Councilor for Communication of the College, with the execution and proposal to the Council of Councilor Rosa Filippo, grand-niece of Msgr. Giovanni Filippo.
At the speakers' table sat: the Municipal Councilor Rosa Filippo, the Councilor Nei Carteiro, Sr. Teresa Cristina Pisani Domiciano, Principal of Colegio do Carmo; Mrs. Adriana Scaldaferri, Vice-Principal; and Sr. Elza Rodrigues, Director of the Community;  while Mr. Luiz Fernando moderated the presentations.
Sr. Teresa Cristina thanked those present and underlined the importance of this recognition of the educational work of the Daughters of Mary Help of Christians, as well as the fundamental role of the Founder, Msgr. Filippo.
Councilor Rosa Filippo, in turn, thanked for the opportunity to pay homage to the College, so dear to her, her family, and the entire Community of Guaratinguetá.
The FMA of O. L. of Carmel Community and Mary Help of Christians Community of Lorena, collaborators, teachers and friends, the population of Guaratinguetá, and journalists participated in the event.