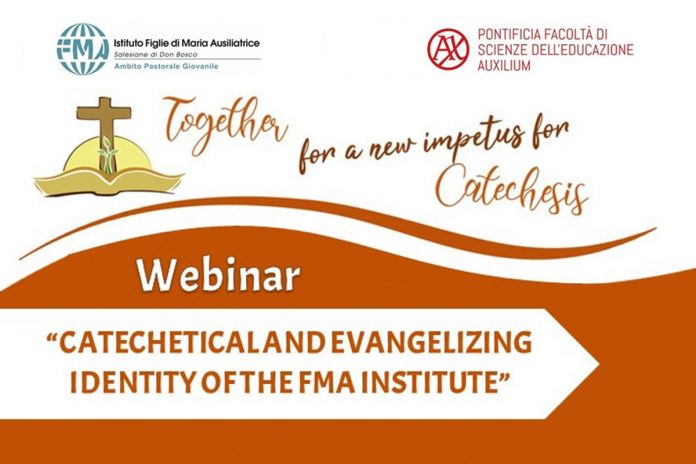 Rome (Italy). From 2 to 6 December 2022 a Webinar will take place in different languages on "The catechetical and evangelizing identity of the FMA Institute", organized by the Youth Ministry Sector of the Institute of the Daughters of Mary Help of Christians, in collaboration with the Pontifical Faculty of Educational Sciences «Auxilium» in Rome.
The Webinar, aimed at FMA engaged in catechesis, young people in formation, Temporary Professed FMA, and open to lay men and women, is the beginning of a process to reinvigorate the educational mission, giving a new impetus to catechesis.
General Chapter XXIV, in fact, strengthened the conviction of the FMA "that the proclamation of Jesus is the priority mission of the Institute and that in the Church, we are catechists by vocation" (Acts GC XXIV n. 30). Starting from this assumption, the Youth Ministry Sector began the reflection with an International Commission of Catechesis made up of eight FMA from different Provinces of the world, which met for the first time on 7 October 2022.
The Webinar on "The catechetical and evangelizing identity of the FMA Institute"  created to commemorate 8 December 1841, when the Salesian work began "from a simple catechesis". It has the objectives of highlighting the importance of catechetical formation to understand the contemporary world and enter into dialogue with it, and to rekindle the fire inherent in the identity of the FMA, so that "catechesis may be catechesis" as Mother Mazzarello exhorted on her deathbed (Cronistoria Vol. 3, p. 378 ).
For this appointment, the International Commission  valued one of the insights, precisely on this theme, carried out by  Immaculate Conception Province of Uruguay (URU) in preparation for the celebration of the 150th anniversary of the foundation of the Institute.
The formative moments take place on the Zoom platform in five languages and are cared for by various FMA from the Provinces and by students of the Auxilium: Portuguese (December 2), Sr. Paula Langa; Italian (Dec. 3) and Spanish (Dec. 4), Sr. Guadalupe Chávez; French (Dec. 5), Sr. Albertine Ilunga and two students of the Auxilium; English (Dec. 6), Sr. Josmy Jose, Sr. Therese Kelly, and Sr. Runita Borja, General Councilor for Youth Ministry.