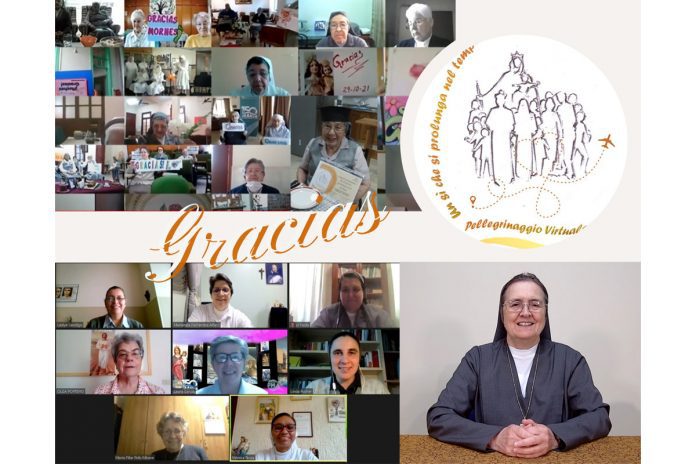 Rome (Italy). On 29 October 2021, in the memory of Blessed Michael Rua, ended the virtual pilgrimage in Spanish "A yes that is prolonged over time" to the places of the Salesian Charism, offered by the  Formation Sector to the FMA from 70 years of age and up as we go  towards the celebration of the 150th anniversary of the foundation of the Institute of the Daughters of Mary Help of Christians (1872-2022).
It started on 3 September 2021 and had more than 400 FMA participants, from Spain, Gabon, Equatorial Guinea, Togo, Ivory Coast, Mexico, Costa Rica, Nicaragua, Panama, Antilles, Colombia, Venezuela, Ecuador, Peru, Paraguay, Bolivia, Chile, Uruguay, and Argentina  who enthusiastically joined the initiative by going online twice a week.
An FMA, in the name of all, reports the resonances of the experience and expresses gratitude for the opportunity of the Pilgrimage:
"The proposal involved hundreds of Spanish-speaking FMA and had a special echo in our communities. We said yes, which was a crescendo of interest and intensity as the days went by. We joyfully awaited 4 pm on Tuesdays and Fridays to pray with so many sisters whom we saw being added to the screen, or whose voices could be heard. We prayed, listened, and interacted with each other, expressing feelings, experiences, and beautiful resolutions, in the light of what we saw and heard.
Thank you Mother Yvonne Reungoat, thank you Sr. Nieves Reboso for launching this project and to the sisters who organized it with great commitment and quality and encouraged us from start to finish. It was worth it!
The technological tools allowed us to get closer to reality and to relive the unforgettable moments spent at the Birth house of Mary Domenica Mazzarello, at the House of the Valgelata, in Borgo Alto, at the window of  the Valponasca, to enter the Museum House of Don Bosco and  the Basilica Mary Help of Christians of Turin-Valdocco, and in Rome, in the Basilica of the Sacred Heart and  the Generalate …
We are grateful for the depth and detail with which the different themes were presented. We were fortunate enough to be able to relive all this after years of experience of Salesian life. We won't remember everything, but these re-evocations  warmed our hearts.
Our THANK YOU:
Thank you, Lord, for calling us into this Family,
thank you for the gift of Mother Mazzarello's life.
Thank you for the seed that fell in Mornese,
for the attention  put into sowing it and caring for it.
Thanks for the accompanying hand,
for the words that encourage and the gestures that always speak to us.
Virtual pilgrimage, infinite itinerary, gift of God Love who,
in a thousand ways, set us on the journey.
Have we reached the goal ?!
We have covered a stage, but the journey continues, because
the vocation is a great Yes that is prolonged over time … ".