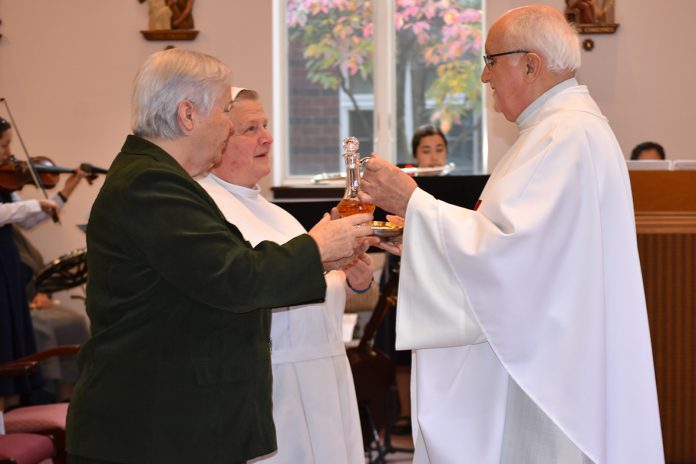 Haledon (United States). On 21 November 2021, the former Councilor of the Salesians of Don Bosco for the America South Cone Region, Fr. Timothy Ploch, visited the Provincial House of Haledon, New Jersey, of the Daughters of Mary Help of Christians of  Saint Joseph Province (SEC) and Mass was celebrated for the FMA gathered for the Province Encounter.
The FMA of the SEC Province celebrate this year the 100th anniversary of the purchase of the property of Haledon, which later became the seat of  St. Joseph Province, of the house for the elderly sisters, and of Mary Help of Christians House, with the High School, formation for the young women in the Phase of Assessment and Guidance (PVO), the summer camp, and other works.
The history and Salesian vocation of Fr. Timothy Ploch is linked to the FMA, as the Salesian is the great-grandson of the lawyer Robert J. McDermott, legal consultant of the first FMA who arrived in the United States in 1908.
The Haledon property, which was initially the seat of the St. Michael Orphanage, was signed by Mr. McDermott, as legal representative of the FMA, on 30 November  1921. He mediated with the owner, who initially did not want to sell his land to 'noisy children'. Going forward in time, in the Chronicle of the Orphanage we find the names of Mr. McDermott's granddaughters, Dolores, future mother of Fr. Ploch and Patricia who, being orphaned,  lived there from 1931 until graduation on 22 June 1940. Dolores shared with her son Timothy the gift of the 'Salesian family spirit', which contributed to his desire to enter the Congregation of the Salesians of Don Bosco that became a reality in 1960.
As a Salesian priest, Fr. Timothy Ploch held various positions, including that of Provincial of both SDB Provinces of the United States (SUE and SUO). In 2014, during the 27th General Chapter of the Salesians of Don Bosco, Fr. Ploch was elected Councilor of the America South Cone Region, which includes the two Provinces of the United States and the Provinces of Mexico, Central America, Antilles, Haiti, Colombia, Venezuela, Peru, Ecuador, and Bolivia. In 2020, with the 28th General Chapter, he completed his mandate and now resides in New Rochelle (NY), in the headquarters of the Province of St. Philip the Apostle (SUE).
The Eucharistic Celebration in Haledon was for Fr. Timothy and for the FMA a thanksgiving for God's Providence, which is manifested in gestures of solidarity and kindness that bring great blessings, also from the vocational point of view.