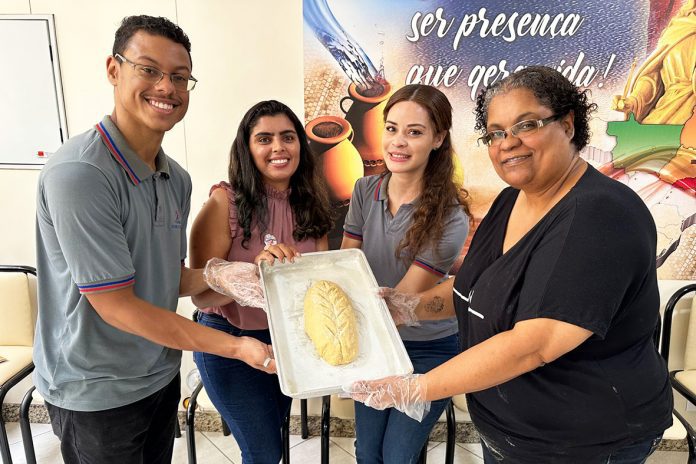 Belo Horizonte (Brazil). On 7 March 2023, at the see of Mother Mazzarello Province (BMM) of Belo Horizonte, the collaborators together with the FMA, lived together a time of formation and socialization starting from Strenna 2023: "LIKE YEAST IN THE HUMAN FAMILY TODAY. The lay dimension of Don Bosco's Family".
The #TimeMazza meetings, with which the Team is affectionately nicknamed, are usually held on the first Tuesday of each month, with the aim of gathering collaborators, reinforcing the spirit of belonging in a constructive and lively way. Each meeting includes a formative moment.
While the first two meetings focused on the guidelines of the General Law on Data Protection (2nd meeting) and the Salesian Charism (1st meeting), this third meeting went into depth on the theme of the Strenna, which invites us to be "yeast in the dough of the bread of humanity", being called as a Salesian Family to complement each other.
The parable of the yeast (Lk 13:20-21) is of great evangelical, pedagogical, and educational wisdom, expressing the nature of the Kingdom of God according to the teachings of Jesus in today's times. For this reason, there is nothing better than latterly putting "our hands in the dough", working the living yeast   that each one brings to the shared journey of the Salesian Mission.
Sr. Dircione da Glória G. Amorim, Coordinator of Social Works of the BMM Province, invited some collaborators to bring their own testimony of being "yeast in the dough" in their Mission, as a call to transformation and the generation of life in those who accompany each other and among the members of the Team. She then presented a biblical reflection on the presence of God in one's life, in relation to the theme of the Strenna.
Sr. Amélia Assis de Castro, Provincial Councilor for the Missions, retraced the history of the Strenna and its transforming function from the point of view of the Preventive System, highlighting the progress of the Provincial Mission. Finally, everyone was invited to prepare the bread, a symbol of the silent and transforming action of the theme of the Strenna.
With this enjoyable and profound dynamic, the participants had the opportunity to share their experiences as a group, reinforcing the charism they felt was precious and present. Together they made some loaves, beautiful to look at, as well as good, shared together, with the hope of continuing to be yeast in the same mass to generate life.