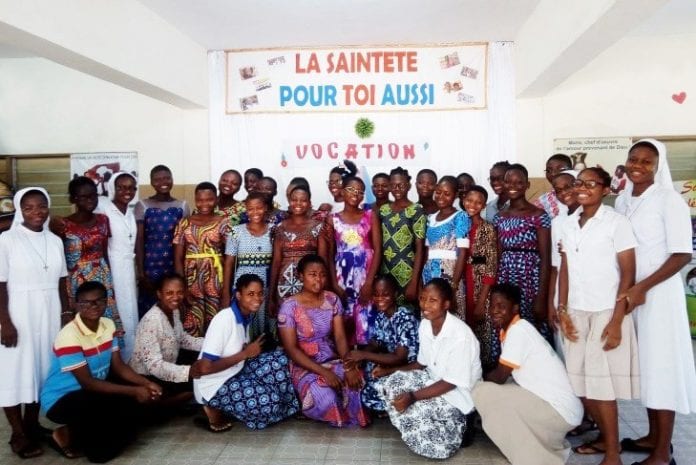 Lomé (Togo). From 9 to 11 April 2021, the young women from the parishes of the Archdiocese of Lomé (Togo) participated in a vocational encounter organized by the Daughters of Mary Help of Christians of   Mary Help of Christians Community of Lomé (Togo), of   Mother of God Province (AFO) ) on the theme: 'The Salesian Vocation'.
The experience began on Friday with the welcome to the participants and a group dynamic around the word 'vocation'. In the evening, there was the viewing of the film on the life of Saint Mary Domenica Mazzarello and the Goodnight of Sr. Sophie Diarra.
In the homily for the Saturday Eucharistic Celebration, presided over by Fr. Adolphe Marie Akpoue, Salesian of Don Bosco, the celebrant invited the young women to live an experience of profound encounter with Christ and to make themselves available to accept God's will for their lives through a personal and intimate encounter with Him in prayer and trust in the Virgin Mary, following the example of Don Bosco and Mother Mazzarello.
The central theme, The Salesian Vocation, was presented by Sr. Clémentine Têtê, Provincial Councilor for Formation, and integrated by the workshops on the Preventive System as spirituality and educational method, led by Sr. Audrey Minoungou; on Prayer as union with God, animated by Sr. Bernardine Aguenahoua; and on 'Salesian Pedagogy', led by Sr. Cécilia Anadi, in which the themes of everyday spirituality, of joy, and of work were addressed.  After the workshops, the participants had a conversation with the oratory children and then manual work.  After the Eucharistic Adoration, guided by Sr. Mariette Potho and Sr. Cécile Anadi, the day ended with viewing the film on Don Bosco and the Goodnight by Sr. Mariette.
The last day was dedicated to evaluating the experience through group sharing and then in assembly.  The participants had an unexpected encounter with the Parish Pastoral Council led by the Vice President, Mr. Hyacinthe Kondo who thanked the young women for having responded to the invitation and he encouraged them to act in their life what they had received in this lived experience.
The Vocational Encounter ended with the evaluation and the group synthesis and with the interviews of the  participants, who expressed their gratitude  to know about and study the Salesian vocation, Mother Mazzarello, and Don Bosco. "'Come and see' is the simplest method to get to know a situation. It is the most honest test of every message, because, in order to know, we need to encounter, to let the person in front of me speak, to let his or her testimony reach me." (Pope Francis, Message for the 55th  World Day of Social Communications ).