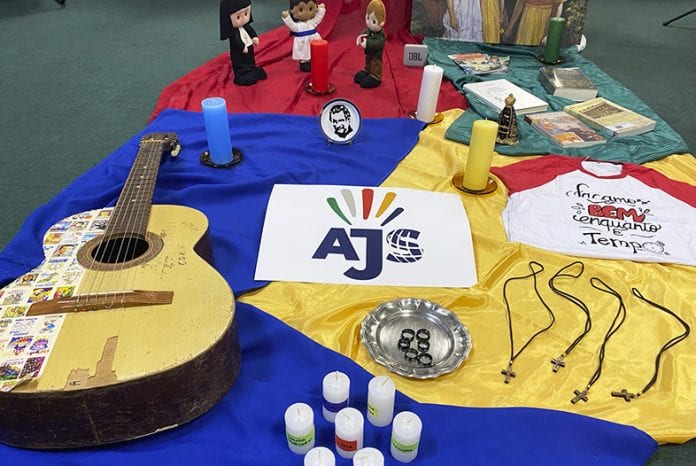 Rio do Sul (Brazil). On 16 April  2021, the 'transition ceremony' was held for the animators and coordinators of the Salesian Youth Articulation (AJS) of  Mary Help of Christians Institute of Rio do Sul, of the Province of Our Lady Aparecida Sao Paulo Brazil – BAP.
The transition ceremony is an important step in the lives of young women because it leads to new assignments and responsibilities. Robson dos Santos Silva, Coordinator of School Pastoral, explains the difference between the two roles. "The animators are   reference persons for the members of the group and are responsible for the formation of other young people. They give continuity to Don Bosco's dream, committing themselves to bring children, adolescents, and young people closer to Jesus. The role of the coordinator has more responsibilities. In addition to being  animators, they coordinate the formation and meetings that concern the group and the other AJS groups".
Two female students became animators, for having participated for a year in the activities in the AJS and having attended the animators' school, making their time available to be a point of reference in the school and, above all, bringing joy and being an example with their own life.
Five young women, after attending the coordination school and participating in the activities of the AJS for at least two years, became coordinators. This role requires greater responsibility and availability of time in the afternoon and for outings. The coordinators must be senior high school students, an example in scholastic assessments, and committed to the community.
Some symbolic elements  emphasized the transition ceremony: the candle is a symbol of the fire that burns and purifies, a sign of greater participation of the coordinators and animators in the groups, whose task is to keep it always lit; the cross, handed over to the animators, represents Christ's obedience and fidelity to the Father's plan; the ring of Tucum, received by the coordinators, indicates the life of faith and commitment in favor of the poor, of those who have no voice. For the Salesian world in Brazil, the Tucum ring, made with Amazonian palm wood, is a symbol of the preferential option for children and young people.
This event constitutes a special and exciting tradition for the animators and coordinators, because it seals the path taken within the AJS and marks a new and more challenging stage. As Robson dos Santos Silva pointed out: "It is a significant experience, which increases  protagonism, commitment, and leadership of young women. It is the practical implementation of Salesian youth spirituality to form for life".
At the end of the transition ceremony, the participants received the blessing of Mary Help of Christians to continue the journey bearing abundant fruit.