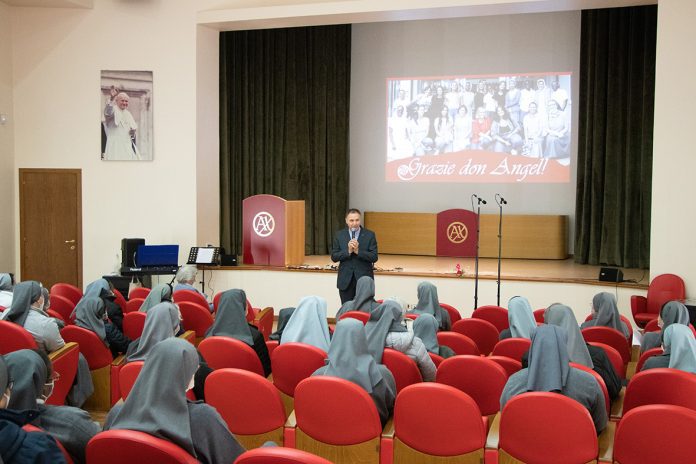 Rome (Italy). On 3 March 2022 the Rector Major of the Salesians of Don Bosco, Fr Ángel Fernández Artime, met the Daughters of Mary Help of Christians, Educators of the Pontifical Faculty of Educational Sciences "Auxilium" and the Communities of the Preprovince Mary Mother of the Church (RMC) of Rome.
The meeting of the FMA educators with the Rector Major had a particular reason: to express heartfelt and sincere thanks to him for having accompanied and supported the Faculty from 2014 to 2021 as Grand Chancellor of the Faculty. The Holy Father Francis, with protocol no. 853/2021 on 2 November 2021, communicated that he had approved the proposal that the Superior General of the Daughters of Mary Help of Christians be Grand Chancellor of the Pontifical Faculty of Educational Sciences "Auxilium" in Rome.
The Principal, Sr. Piera Ruffinatto, on behalf of all, expressed gratitude to the Rector Major for the service carried out with intelligence, competence, far-sightedness, and a spirit of sharing. For his part, the Rector Major expressed appreciation and joy for the appointment of Mother Chiara Cazzuola as Grand Chancellor of the Faculty, assuring that he will continue to follow the activities of the Faculty and the collaboration with the Salesian Pontifical University (UPS) of Rome.
After the meeting with the educators, the Rector Major went to the chapel for Vespers with the FMA of Mother Angela Vespa Community. A convivial moment followed with the participation of the Council of the Preprovince and the Animators of the Communities.
At the Good Night, the FMA of the Communities of Mother Angela Vespa, Mother Mazzarello, and Sr. Teresa Valsè were gathered in the Aula Magna of the Faculty, while Mother Ersilia Canta Community of the two-year period of Salesian Spirituality, and St. Paul VI Community of Concesio were in connection online. Together they breathed a family atmosphere and listened with joy to the words of the Rector Major.
Sr. María del Carmen Canales Calzadilla, Superior of the Preprovince, offered some gifts to the Rector Major in the name of everyone. To these was added the homage of the song, "Heart speaks to heart", sung by an FMA group, written and set to music by Fr. Maurizio Palazzo, SDB, in reference to the theme of Strenna 2022, "Do everything through love, nothing through constraint" (St. Francis de Sales).
One of the FMA comments on the family moment she lived: "Everything has the simplicity of Mornese and Valdocco. If you look carefully you can see, seated among the red armchairs of the Aula Magna, Mary Help of Christians who smiles, pleased with this visit and calls Don Bosco and Mother Mazzarello to her to bless together these daughters of hers and accompany them on their journey along the roads of the world, to be visible signs of the Father's love for young people".