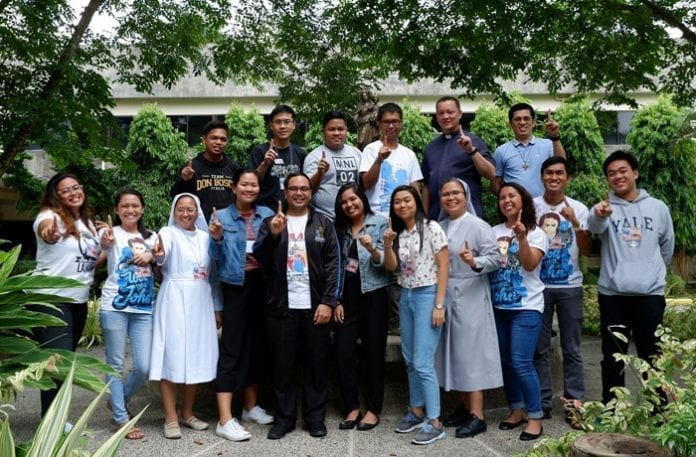 Cebu City (Philippines). Representative priests and sisters of the two SDB Provinces (FIN – Philippines North, FIS – Philippines South) and the FMA Province of the Philippines (FIL) met to talk about the unification of the Salesian Youth Movement (SYM) in these three Provinces dubbed as "One-SYM." The meeting was held at the SDB Provincial House of FIS Province in Cebu City on June 27 to 28, 2018. Prior to the meeting, the three Provincial Superiors have signed the document endorsing the historic meeting.
The four Salesian priests and two sisters who participated are in charge of the Youth Ministry and the Salesian Youth Movement of their respective provinces. The Salesians of the FIN Province were Fr. Joebeth Vivo and Fr. Juvelan Samia while from the FIS Province were Fr. Joriz Calsa and Fr. Vince Sabal. Fr. Joriz facilitated the meeting. Representing the FMA were Sr. Debbie Ponsaran (Provincial Coordinator for Youth Ministry) and Sr. Eustacia Mendoza (Provincial Coordinator of the Salesian Youth Movement). Twelve youth leaders of the three provinces also participated in the meeting.
On the first day of the meeting, they came up with a plan to write a common SYM Primer for the three provinces. First, they agreed on the contents of the Primer and elaborated the contents of each section. Second, they distributed the sections of the Primer to the three Provinces for elaboration on the details as take home assignments to be discussed on the next meeting on September 9 at the FMA Provincial House in Manila.
They also talked about the need for the renewal of Youth Ministry which could be initiated first of all by listening to the young people from the different settings. Plans were also discussed with regard to the big events on youth like the Synod of Bishops, the World Youth Day, and the Year of the Youth in the Philippines. A lot of time was also given to the sharing of how the animation of the SYM is being done in each of the three provinces and how the three provinces can work together as "One-SYM."
The participants in the meeting have all expressed their joy, enthusiasm, and the passion to testify that it is possible to be "One-SYM." A vibrant family spirit, respect, listening, openness, and zeal for souls have characterized this two-day meeting. Don Bosco and Mother Mazzarello are no doubt guiding this historic endeavor.