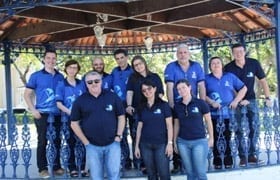 Quissamã (Brazil). To reflect on the orientations and challenges of university pastoral care, the representative of the University Pastoral Faculty Salesian Mary (FSMA) and of the Higher Institutes of Censa Teaching (ISECENSA), held a meeting on June 26, 2018, in the Parish of Nossa Senhora do Desterro Quissamã.
The meeting aimed at sharing, reflecting and analyzing the document Guidelines for Pastoral Care in the FMA Higher Education Institutes (ISS-FMA), proposals on the challenges of Pastoral Care in both Institutions, and the presentation of the activities of 2017- 2018, and the presentation of the actions of the second half of this year.
The director general FSMA, Sister Carmelita Agrizzi, at the end of the meeting, which was a unique moment of integration between members and exchange of experiences, said: "I believe that this meeting has renewed in each of us the feeling that University pastoral care in our houses is an important space for listening, paying attention to one another, and to experiencing the love of God and Our Lady".