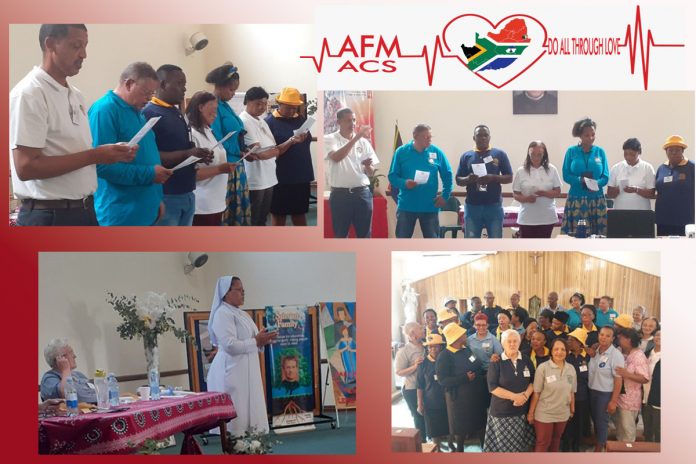 Johannesburg (South Africa). From 7 to 9 October 2022 the Regional Congress of the Association of Salesian Cooperators (ASSCC) was held in Johannesburg, in Walkerville, at Don Bosco Youth Center.
Present at the meeting were the Provincial of the Province of Our Lady of Peace (AFM), Sr. Cecilia Motanya; Sr. Giovanna Pesenti, Provincial Delegate of the ASSCC; and Regional Head of the Salesian Family, Fr. Emmanuel Kagimbangabo, Salesian of Don Bosco of Blessed Michele Rua Vice Province (AFM); and Sr. Lidia Castro, local Delegate. There were also 33 Salesian Cooperators from Lesotho, Malamulele, Cape Town, and Ennerdale, with the Regional Coordinator and the Provincial Councilors.
The Congress, with the main objective of electing the new provincial team, had as its theme Strenna 2022 "Do everything for love, nothing by force". The meeting took place in an atmosphere of serene sharing and working together, in the Salesian family spirit.
The days began on 7 October with praying the rosary in procession in the surrounding area, to celebrate the Feast of the Blessed Virgin of the Rosary, ending in the meeting room, where the flags were placed, a candle lit as a symbol of God's presence, and a plant placed in the center to represent the life of children and young people at the center of the mission.
Sr. Cecilia reminded the Salesian Cooperators that they were the first collaborators of Don Bosco's mission, even before the Congregations of the Salesians of Don Bosco and the Daughters of Mary Help of Christians were founded. Therefore, they have the great privilege and responsibility of carrying out Don Bosco's mission today, collaborating with the other members of the Salesian Family.
Mr. Brown Chester, Regional Coordinator, in preparation for the election moment, presented a PowerPoint of articles on the different roles, responsibilities, and importance of being available to serve the Association generously.
Sr. Giovanna Pesenti, before proceeding with the election of the new members, stressed the importance of responsibly following the indications of the SSCC's Apostolic Life Project.
After the invocation to the Holy Spirit, the election took place in which the assembly reconfirmed the regional coordinator and elected the new provincial team for the period 2022-2025.
The Congress concluded with greetings and thanks, and with the gift of a Bible cover for each participant.