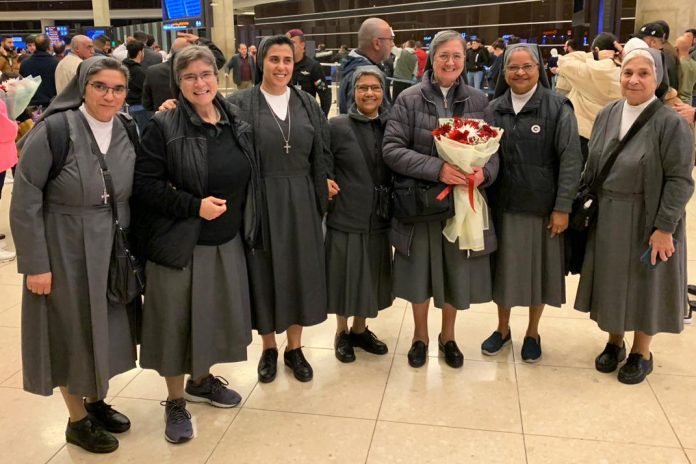 Jordan (Middle East). From 12 to 25 November 2022, the Superior General of the Institute of the Daughters of Mary Help of Christians, Mother Chiara Cazzuola, is visiting the Province of Adolescent Jesus (MOR), which includes seventeen Houses in five Middle Eastern countries: Lebanon, Syria, Jordan, Israel, Egypt.
After her visit to Lebanon, on 16 November, in the late evening Mother Chiara landed at Amman airport in Jordan. To welcome her and Sr. Charlotte Greer, MOR Provincial who accompanies her, were Sr. Roxana Magdalani, Animator of St. Joseph Provincial House; Sr. Jacinta Saldanha, Provincial Councilor; and other FMA from the Communities of Amman.
The following day, the Eucharistic Celebration in the Chapel of the Provincial House was presided over by Msgr. Jamal Khader Daiebes, Auxiliary Bishop of the Latin Diocese of Jerusalem, who in his homily invited us to always be rooted on the vine, which is Christ, like branches that want to bear fruit. "Everything we do we owe to the grace of God; no one should boast of having done so many things or had so much success. Without grace nothing can be done, nothing makes sense, even our very collaboration with God is a free grace."
In the morning, Mother went to visit the FMA Good Shepherd Community and the Regina Pacis Spirituality Center, 17 km from Amman, with the Youth Center oratory and a rehabilitation center for children with disabilities. Here she met the Patriarch Emeritus of Jerusalem, Msgr. Fouad Tuwal; the Bishop Emeritus of Amman, Msgr. Salim El Sayegh; the children and priests in charge of Regina Pacis youth center, where the FMA carry out their service.
In the afternoon, after concluding the colloquies with the sisters, she gathered the two communities present in Amman in the Provincial House, and exhorted the sisters to continue the post-chapter journey "feeling challenged by the call to formation in ordinary life, to allow themselves to be formed, to be transformed by life, by encounters, by every existential situation. This makes people free and promotes fruitful vocation animation." She then underlined the significance of the presence of the FMA among young people as educators and the importance of sharing one's faith with everyone. In the evening, she met a group of Salesian Cooperators.
On 18 November, after the Holy Mass celebrated by Msgr. Mauro Lalli, Charge d'Affaires of the Apostolic Nunciature in Amman, followed by a fraternal discussion on various topics during breakfast and by the meeting with the young people of the Amman youth center, Mother met with the Provincial Council. In the early afternoon, she and the Provincial were taken back to the airport, from where they left to reach the communities in Israel.
Photos: Flickr FMA