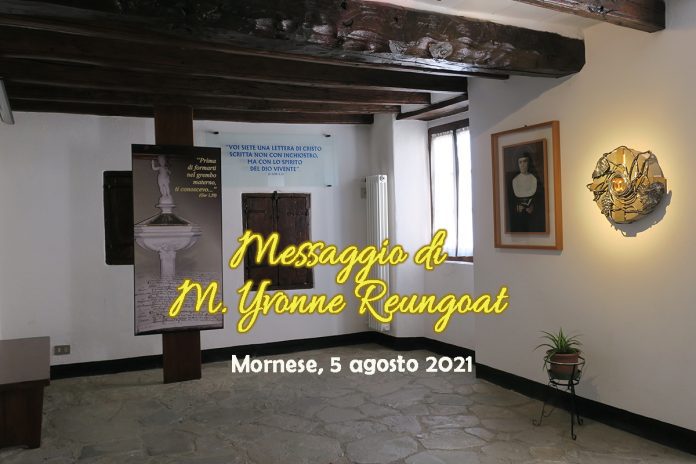 Mornese (Italy). On 5 August 2021, from Mother Mazzarello's Birthplace in Mornese, the Mother General of the Institute of the Daughters of Mary Help of Christians, Mother Yvonne Reungoat, launches the 3rd Year of Preparation for the 150th Anniversary of the Foundation of the Institute of the Daughters of Mary Help of Christians (1872-2022).
In 2019, the first year illumined by the words of Mother Mazzarello, "Let us really thank the Lord who gives us so many graces" (L37,10), was lived under the banner of 'gratitude' for the abundance of Grace with which the Lord filled the FMA Institute. In 2020, gratitude was followed by the mandate, "I entrust them to you": take care of the young women, so they will respond by accepting to become living stones of the monument to Mary Help of Christians.
In 2021, the 3rd year of preparation has the theme, Plan the future boldly. "Courage! Let us go forward with a big and generous heart" (L 47,12). The word of Mother Mazzarello has a profound resonance in our hearts in the historical moment we are living. The source of hope is  our faith, in believing that God is always present and  acts in the heart of history.
The Celebration of 5 August is an occasion to "renew the certainty that Mary walks with us, supports and accompanies, protects and embraces us" (Christus Vivit, n. 45). It is a day of remembrance and of the future, of gratitude and fidelity that propels the FMA Institute forward with hope.
"May the three years of preparation for the Jubilee anniversary help us to joyfully celebrate the fidelity of God and the presence of Mary Help of Christians that gave rise to the FMA  Institute  and continues to accompany its journey.
To everyone, best wishes for a year marked by Salesian holiness and praise to God and Mary Help of Christians who wanted the Institute and always accompanies it! "