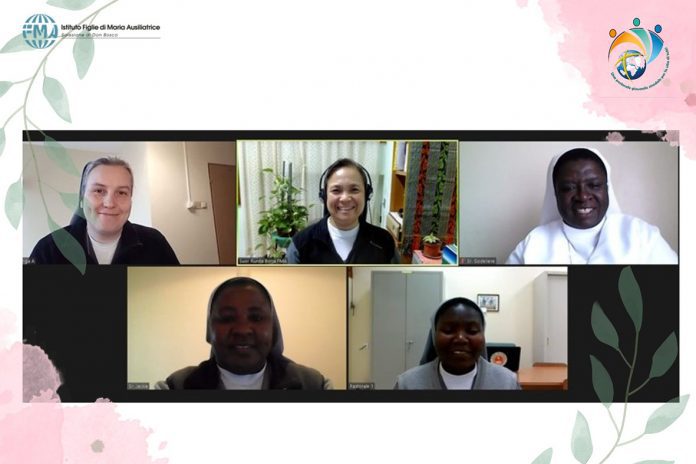 Rome (Italy). In two online sessions, the formation meetings for the new Provincial Youth Ministry Coordinators of the Institute of the Daughters of Mary Help of Christians were held on 21 and 28 February 2023, in Italian and on 7 and 14 March, in English on the theme "Animating a Synodal Youth Ministry for life and hope". A total of 11 new Coordinators participated.
Sr. Runita Borja, General Councilor for Youth Ministry, organized these online meetings with the aim of giving an orientation for their task, offering a reflection on the animation of Youth Ministry oriented "to Life and Hope", on the basis of the Guidelines for the Educational Mission of the FMA (LOME), the Acts of Chapter XXIV, and the 7th chapter of the post-synodal Apostolic Exhortation Christus Vivit of Pope Francis.
In both groups, the convergence between the Magisterium of Pope Francis in Christus Vivit and the Educational Mission of the FMA was immediately seen. Among the elements highlighted were the effects of social and cultural changes on YM, also outlined in the 1st chapter of the LOME. This has been seen as an opportunity and not as a threat, in the animation of young people in different contexts. The Pope also speaks of a synodal pastoral care, and it was noted that the concept of coordination for communion is present in the Institute as an invitation not to leave anyone behind in the educational mission, but to walk with everyone despite the diversity of culture of origin or religion.
Precious was also the reflection on the importance of Environmental Pedagogy in the educational mission of the FMA, read in parallel with Christus Vivit, that invites us to create suitable environments and make places better equipped for young people, so that they can feel at home.
The element of youthful religiosity was also highlighted, to be strengthened by involving young people who do not feel at ease in ecclesial structures, while still manifesting God's request. This leads to the commitment to embrace all young people in the educational mission, without being attracted only to those who easily adhere to the initiatives that are organized and proposed.
The Coordinators also had the opportunity to briefly present YM animation in their Provinces, highlighting its planning, organization, relationship with the Provincial Council and with the local communities. Along this line, Sr. Runita enriched the reflection by presenting other elements that should help the Coordinators in their commitment, such as taking care of the specific choices and actions that concern the education of young men and women, the promotion of the quality of YM in fidelity to the Salesian educational charism, and encouraged the concrete elaboration of itineraries that can support individuals and groups on the journey towards an encounter with Christ. All of this was always treated from the point of view of synodality.