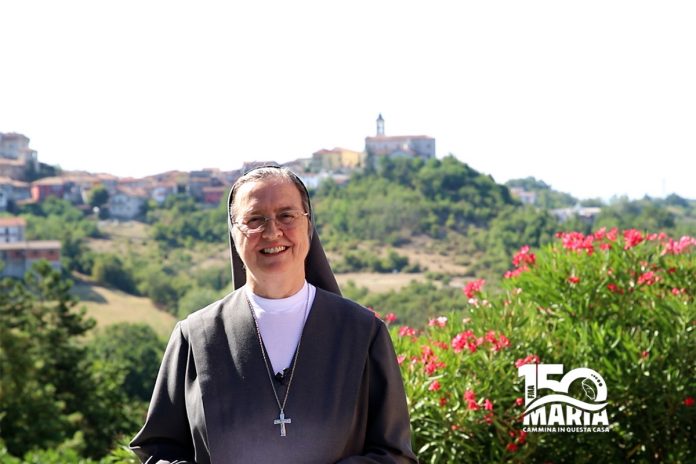 Mornese (Italy). On 5 August, on the occasion of the 150th Anniversary of Foundation, the Superior General of the Institute of the Daughters of Mary Help of Christians, Mother Chiara Cazzuola, from Mornese reaches all the Daughters of Mary Help of Christians and the Educating Communities through a video-message.
"This will always be the place where the eyes of all the FMA are turned because the holiness of our Mother Mary D. Mazzarello wrote words of life on its stones, its walls, its furrows, in the depths of the spirit".
"And today, with the heart in Mornese, from every community of the world, from sunrise to sunset, a hymn of praise and thanksgiving is raised to God for the marvels He has worked in history and in the life of each one of us".
The long-awaited Jubilee celebration, whose echo resounds in the five continents where the Daughters of Mary Help of Christians are present, arrives after a Triennial in which the Educating Communities prepared themselves to live this event of grace, of praise and gratitude, of charismatic deepening, and of celebration of the marvels worked by the Lord in 150 years of history:
"To celebrate is to give thanks for the journey taken, but it is also looking towards the future, at the journey that continues. We again refer to Mother Mazzarello because her educational commitment prompted her to start from immediate needs, to rekindle hope, to orient towards values, to a wide-ranging mission of which today we are a sign and its world-wide actualization".
With the heart at the origins and the gaze directed towards the future, Mother Chiara gives the greeting for a Happy Feast and a good continuation on the journey of holiness, in the footsteps of Mary Domenica Mazzarello and with the support of the Help of Christians.
"In the depiction of the sanctuary built in the centenary of the foundation of the Institute (1972) at the Mazzarelli in Mornese, the Help of Christians is reaching out towards Mary Mazzarello.  May she come to help all of us as well on the journey that opens to the future, so that in seeking new ways for education, we do not lose the original inspiration but remain faithful to the radical nature of the da mihi animas cetera tolle and of the I entrust them to you. May she support the journey of holiness of each of us and of our Educating Communities, because holiness is the most beautiful face of the Institute, the secret of its missionary and vocational vitality".