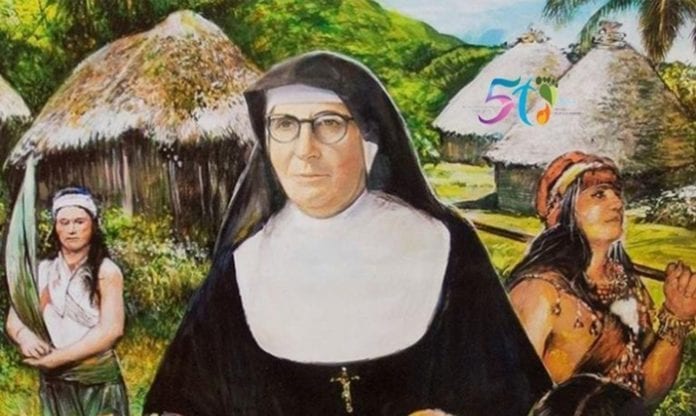 Rome (Italy). On August 25, 2019 we celebrate the 50th anniversary of the death of Blessed Sister Maria Troncatti, a Daughter of Mary Help of Christians, missionary in the Amazon forest, who offered her life for peace between the colonists and the Shuar.
On this occasion, Mother Yvonne Reungoat, Mother General of the Daughters of Mary Help of Christians, sent a message from Kenya where she is visiting "Our Lady of Hope" Province (AFE).  The full text is reported below:
"To you, dear Provincial, Sister Cruz María Piña,
and to you, dear sisters of the provincial community,
to ecclesial and civil authorities,
to His Excellency Msgr. Néstor Montesdeoca who presides the Eucharist,
to the concelebrating priests,
to the members of the Salesian Family, in particular to the Salesian Confreres,
to all persons, adults, and young people who have contributed in an excellent way to the preparation of this celebratory moment for the 50th anniversary of Sr. Maria Troncatti's dies natalis,
I wish to express my deep joy and gratitude.  I join you, on behalf of the whole Institute, to praise the Lord for the precious gift given to the Church, to all of us, and to the Shuar people in particular, for this great missionary figure: Blessed Sister Maria Troncatti , who gave her life as a total offering of love.
I recall with emotion November 24, 2012, the day of her beatification in Macas, where, as a festive Church, we felt enveloped in a climate of communion around her to say our thanks for her mission in the Amazon, favoring the poorest, her 'beloved ones', just as they were for Jesus.
There were difficulties, moments of discouragement, mishaps of various kinds, but she always clung to the 'rock' on which she had built her life and her mission: the Lord Jesus!
In one of her personal writings we read: "Lord, I want to be yours forever. Oh Lord, I have left everything I most loved in order to serve You, to sanctify myself … only You remain and You are enough for me. Jesus, help me to be good and to persevere in this state of life in which you have called me: that I may be faithful in your service … Give me much love, give me a great spirit of sacrifice, humility, and self-denial so that I may be an instrument that can do much good to all."
Our joy is great to think that the 'Madrecita' is present among us, and to remember and welcome with gratitude her luminous and significant message of educational and missionary holiness.
In this year of preparation for GC XXIV and in which the Church will celebrate the Pan-Amazon Synod on the theme of Amazonia, new paths for the Church and for an integral ecology, next October, Sister Maria Troncatti was chosen to be among the Synod's witnesses. She represents for everyone an opportunity to renew the radical approach of the Gospel, to return to the sources of the Salesian charism, and to strengthen the da mihi animas cetera tolle with the same enthusiasm with which she herself lived it and thus be able to proclaim the beauty and riches of the Gospel, especially to the young.
We can say that she is a frontier woman, a prophetic Daughter of Mary Help of Christians, who lived the demands of inculturation with the sensitivity and intuition of the saints, because inculturation is a question of love and those who love know how to understand, adapt, become neighbor .
This is Sister Maria Troncatti: a great missionary because she was capable of loving and being in solidarity with the poorest, with the suffering in body and spirit, with the young native generations not with words, but with the language of the heart, with gestures of delicate humanity: a wonderful 'way' to evangelize and educate effectively.
Sister Mary did not accomplish her tireless missionary work alone, but in full synergy and communion with the Salesian confreres and with the whole Salesian Family, valuing the potential of the laity in the knowledge that only with them would every activity of human promotion and of evangelical proclamation make deep roots so that it could grow into a luxuriant tree. And so it was! Your presence here today proves it.
May Mary Help of Christians, to whom Sister Mary totally surrendered herself and whose presence she felt concretely, obtain for all of us the courage to continue to sow hope and joy with a missionary heart like hers!
My wish is that together we can radiate and contagion many young people with the beauty of the sanctity of Sister Maria Troncatti and with them and for them, face with apostolic boldness the challenges and proposals that will emerge from the next Synod.
Even if geographically distant, I am close to you with renewed gratitude, with great affection, and with my prayer.
May the blessing of the Lord, through the intercession of Don Bosco, of Mother Mazzarello, and of Blessed Maria Troncatti, be abundant in your life, in your communities, and in all families.
Nairobi, 25 August 2019
Sr. Yvonne Reungoat FMA
Superior General