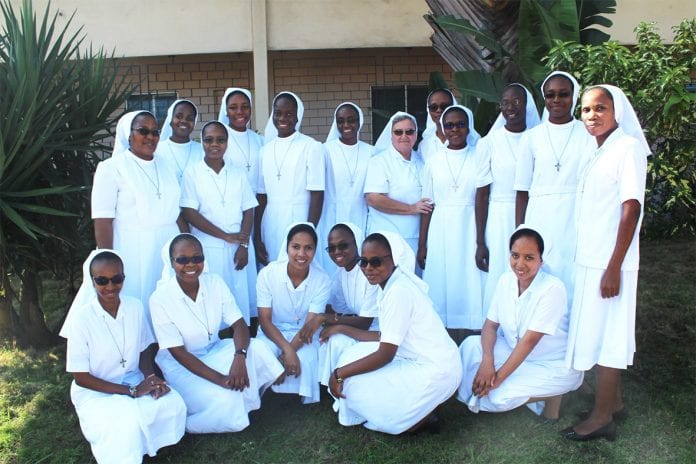 Abidjan (Ivory Coast) On 5 August 2020, 16 Novices of the Institute of the Daughters of Mary Help of Christians, coming from four Provinces of the CIAM Interprovincial Conference – AFO, AEC, Angola (ANG), and Madagascar (MDG) – due to the Covid-19 pandemic, celebrated their First Profession at Mary Help of Christians Novitiate of Abidjan of Mother of God Province (AFO).
"I have called you by name: you belong to me" (Is 43:1) is the phrase that the Newly professed made their own on the day they answered 'yes', offering themselves to God, loved above all else, to follow Christ more closely in the mission of salvation of the young.
The Eucharistic celebration was presided over by Fr. Éric Assoumou, with the concelebrants Fr. Paul Adibode, preacher of the spiritual exercises, Fr. Xavier Bereau and Fr. Isidore Minoungou, Salesians of Don Bosco.
During the homily, the celebrant exhorted the young professed to always be joyful, in the certainty of living, already here on earth, the beginning of the life of the Kingdom of Heaven, with the Only Spouse, Jesus Christ, and to welcome the difficulties and trials inherent in human and Christian life as a sign of salvation from God who loves and wants to save every person. "Be joyful and do not let anything hinder the joy you have today of belonging to Christ", he told the newly professed, urging them to live and to bear witness with fraternal love to the gift of themselves to the community and in the educational mission. He also thanked the parents for the generous gift of their daughters to God and the FMA Institute and concluded the homily by inviting the assembly to pray for their perseverance in following Jesus. The Provincial of the AFO Province, Sr. Yolande Kikange, delegate of the Mother General, Sr. Yvonne Reungoat, welcomed the professed into the FMA Institute.
The parents of a newly professed, originally from the Diocese of Abidjan, were present at the celebration representing all the parents, as well as a representative of the Salesian Family, the Association of Mary Help of Christians (ADMA), and the parish pastoral council. The feast took place in a family atmosphere, in the joy of seeing the Salesian charism grow in Africa, despite the difficult situation due to the current pandemic.