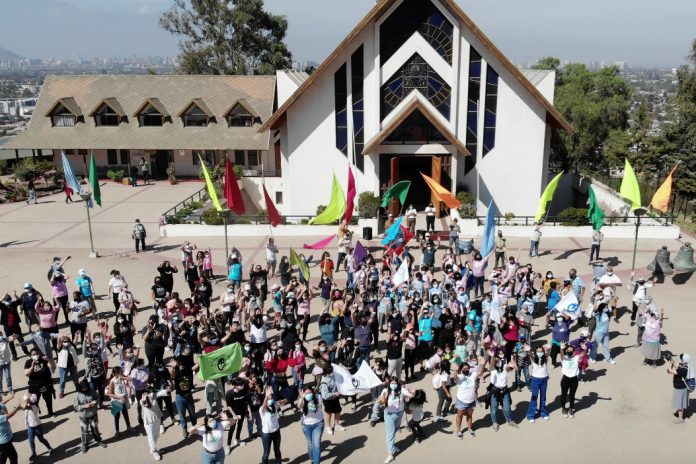 Santiago (Chile). On 9 April 2022, the Laura Vicuña Shrine in Renca, on the slopes of Cerro Colorado, welcomed the Educating Communities of the St. Gabriel Archangel Province (CIL) who gathered to celebrate Laura's 131st birthday (April 5, 1891).
The Educating Communities of Valparaiso, José Miguel Infante High School, Laura Vicuña of La Cisterna (Santiago), Laura Vicuña of San Joaquín and Los Andes were present at this celebratory moment of the life and holiness of Blessed Laura Vicuña.
The young people of the Association "We are Laura Today" (Somos Laura Hoy) welcomed those who arrived at the Shrine with entertainment, games and festive greetings. The younger participants enjoyed painting drawings of Laura and the teenagers had games that allowed them to learn more about the Blessed. In addition, 150 trees were planted which will add to the hill reforestation project with indigenous trees.
As part of the celebrations for 150° anniversary of the foundation of the FMA Institute, all the participants present at the Shrine were invited to record a choreography of the hymn for the 150th. At the end of the morning's activities, the Eucharist was celebrated, presided over by Fr. José Toledo, a Salesian of Don Bosco, in which the legacy of Laura was recalled and the invitation to continue spreading it was extended.
"Laura is a brave girl who left us a wonderful legacy and this day is a real celebration, where we saw the joy of young people.  We had activities, planted trees (…) it is life we are sowing through her example", recalled the Executive Director of the Beata Laura Vicuña Fundation.
Source: fmachile.org