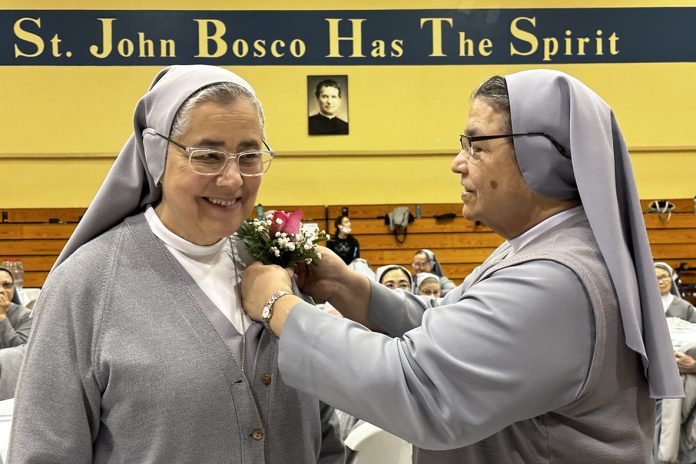 San Antonio (Texas). On 15 and 16 January 2023, at St. John Bosco School in San Antonio, the Province of Mary Immaculate (SUO) celebrated the Feast of Gratitude.
The Feast, with the theme "Walking with Mary, a life-generating presence" began on Sunday 15 January, with a moment of prayer as an expression of gratitude to God for the generous service of the Provincial, Sr. Rosann Ruiz in the past six years.
Afterwards, the Daughters of Mary Help of Christians from the whole Province presented the images and memories of the provincial visits of Sr. Rosann in each community. Putting their talents to good use, some FMA sang songs of gratitude in Italian and English, others with dances that included aspirants, postulants, and temporary professed, still others staged creative and entertaining dramatizations. Amidst laughter and sincere expressions of thanks and affection, there was an intense moment in the spirit of the Salesian family.
In the evening, the FMA were challenged by the aspirants and postulants to the "Jeopardy" game in which each team won points by singing hymns of the Salesian Family, praises and prayers, classic and modern songs or cartoons. It is interesting to see how much music is present in daily life.
On Sunday, all families and friends were invited to join the sisters in thanking Sister Rosann Ruiz with the celebration of the Holy Mass of Thanksgiving. The room was full of Past Pupils, Salesian Cooperators, current students, benefactors, and other family members who appreciated Sr. Rosann's guidance, love, and service to God and to the Province.
After the Eucharistic Celebration, a small show was offered with a folk dance performed by St. John Bosco's Dance Team, radio presenters with presentations and expressions of gratitude from all present.