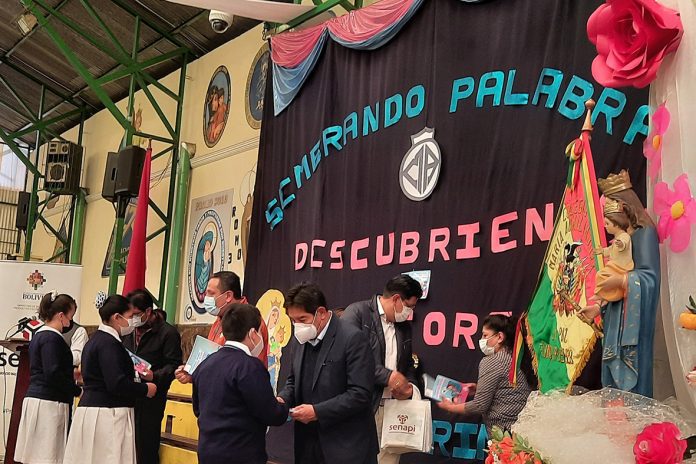 La Paz (Bolivia). "Sowing words, discovering authors" (Sembrando palabras, descubriendo autores), is the title of the book written by 81 children between 11 and 12 years of age, pupils of the 6th class of the Primary School Mary Help of Christians of La Paz, directed by the Daughters of Mary Help of Christians of O. L. of Peace Province (BOL).
The publication is the result of the creative writing workshops that were held at the School, in which the passion for reading developed by the children stands out thanks to the methodology and teaching of the Literature teacher Rodolfo Triveño, who helped them to bring out their talent.
This is a significant result for the classes that, despite the time of the pandemic, got involved in this dream and challenge, managing, with the skills of each one, to create stories and poems written by them, to become recognized as authors by SENAPI (National Intellectual Property Service).
On 3 December  2021, the group experienced a festive afternoon at the School  with the presence of teachers, families, FMA  in which the Director of Copyright and Relative Rights of SENAPI, Dr. Carlos Alberto Soruco Arroyo , presented the acknowledgments to the Animator of the FMA Community, Sr. Beatriz Loyalza, to the teacher Rodolfo Triveño, and the certificate with a copy of the work to each student.
The young authors began writing poems and short stories starting from their daily reality and, with creativity and imagination, they gave shape to their ideas, word after word, discovering themselves as authors. This small start, which has led to a great result, opens the way to greater possibilities, thanks to the self-confidence acquired.
The book is varied in topics, arouses emotions and makes you smile. It presents eight categories, each with a slogan-phrase, an encouragement to take up the challenges of life, to rediscover the ability to observe, to marvel at the beautiful things around you, which are often not noticed due to the daily routine.
Mary Help of Christians School has been promoting the love of reading for several years through workshops like this one, which introduce students to a new stage of school life in which pupils are led  to cultivate their own thoughts, awakening their love for reading, for research, the desire to improve one's vocabulary, and to learn new words and meanings.
The pandemic time has led to this unprecedented and comforting experience, which has been able to give a touch of magic, as only children can do, re-signifying reality and making the ordinary extraordinary.