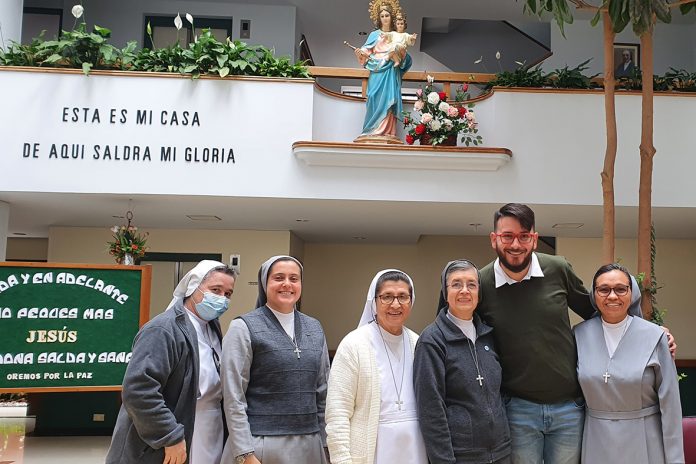 Bogotá (Colombia). On 8 April  2022, at the House of the Province of Our Lady of the Snow (CBN) the Directors of the Institutions of Higher Education for Teacher Training (ISS-FMA) of Colombia met with the following objectives: to welcome the new Directors and make them participate in the journey made by the node of Colombia, follow-up on the 2019-2022 action plan and plan the work of the year, taking into consideration the National Congress of Education in which the Daughters of Mary Help of Christians will celebrate the 150th anniversary of the Foundation of 'Institute and 125 years of the Salesian presence in the country.
The face-to-face meeting was privileged, as the experience of the pandemic has highlighted that the functioning of the networks is more dynamic when it is based on a closer human relationship between its members.
Given the presence of the new Directors, a process of introduction to the reality of the Colombian node was favored with the use of material sent by Sr. Ivone Goulart Lopes, Coordinator for the Youth Ministry Sector of the FMA Institute for the ISS-FMA, to give a systematic nature to the path followed by the network.
We also saw the need to share experiences and socialize the action plan with participation in its evaluation, as it allows new members to understand the historical and charismatic responsibility of the FMA Institute and the way in which the network fosters mission. This objective can only be achieved with joint participation in its construction of meaning.
The action plan is directed to the realization of a Permanent Seminar on the Preventive System common to the nine ISS-FMA aimed at teachers in training and internship, a dream that has become reality. The realization now presents the institutions with new challenges in the field of Salesian pedagogy.
One of the challenges is to make visible the contribution of Sr. Onorina Lanfranco to the origins and consolidation of childhood pedagogy in Colombia, and in this line, it is necessary to ensure that her experience becomes the subject of study and research in the Teacher Training Schools, within the framework of the Permanent Seminar on the Preventive System.
A significant event of the meeting was the presence of Miguel Ángel Martínez, pedagogist and researcher who devoted himself to studying the contribution of Sr. Onorina to early childhood education in the country. He gave a lecture in which he shared research and findings, bringing enthusiasm and commitment to the study work that the node is undertaking.
The meeting culminated with the planning of actions aimed at articulating the Permanent Seminar 2022 with the work that is being carried out for the National Education Congress, thus favoring the coordination and relevance of interventions and projects.