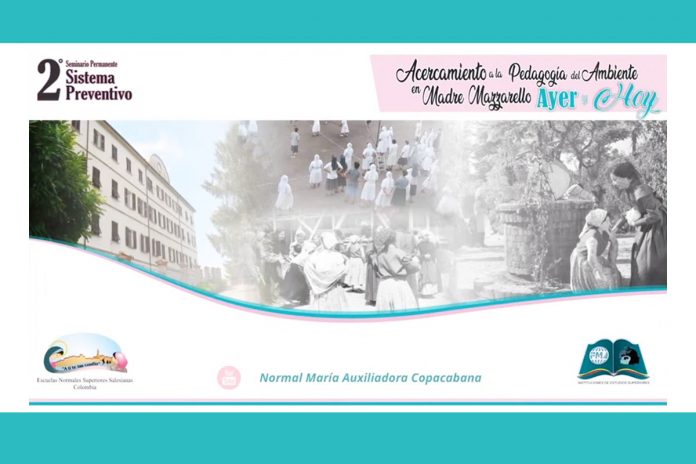 (Colombia). On 19 August, the 2nd National Meeting took place of the Ongoing Seminar on the Preventive System, organized by the Institutions of Higher Studies of the Daughters of Mary Help of Christians (ISS-FMA) of Colombia.
The Ongoing Seminar on the Preventive System is an experience of charismatic communion and educational synergy implemented by the ISS-FMA in Colombia, consisting of nine Higher Normal Schools – Institutions dedicated to the formation of teachers  for the Kindergarten and Primary School – in the spirit of the Global Educational Pact and in the awareness that educational responsibility today can only be collective, participatory, and synergistic. A blog collects the material of the thematic meetings that take place periodically for the formation and updating of teachers.
The in-depth theme, in continuity with the 1st meeting, held on 13 and 14 October 2021 on the theme "I entrust them to you", was: "Approach to environmental pedagogy in Mother Mazzarello, yesterday and today". Inspired by the educational experience of Mother Mazzarello and the first Daughters of Mary Help of Christians, some elements of environmental pedagogy from an ecosystem perspective were highlighted, through the experience of some members of the Educating Communities of the Normal Schools of Colombia.
The meeting was conceived as a dialogue of knowledge and experiences aimed at studying the Preventive System in the current context, to generate new ways of reflection on the elements that characterize the environment in an educational and Salesian key.
The moderators, an FMA, a teacher, a student, and a Past Pupil, presented the interventions of the Experts on the central topic: "Environmental pedagogy". In a second moment, "Voices and stories of Salesian pedagogy", three workshops were held in which the environmental pedagogy lived by Mother Emilia Mosca, Mother Maddalena Morano, and Sr. Honorina Lanfranco, Italian missionary, pioneer of Early Childhood education in Colombia in the early 1900s.
To promote the meeting, the young students prepared a virtual page, with videos in which the work done by the young people and the process carried out are told.