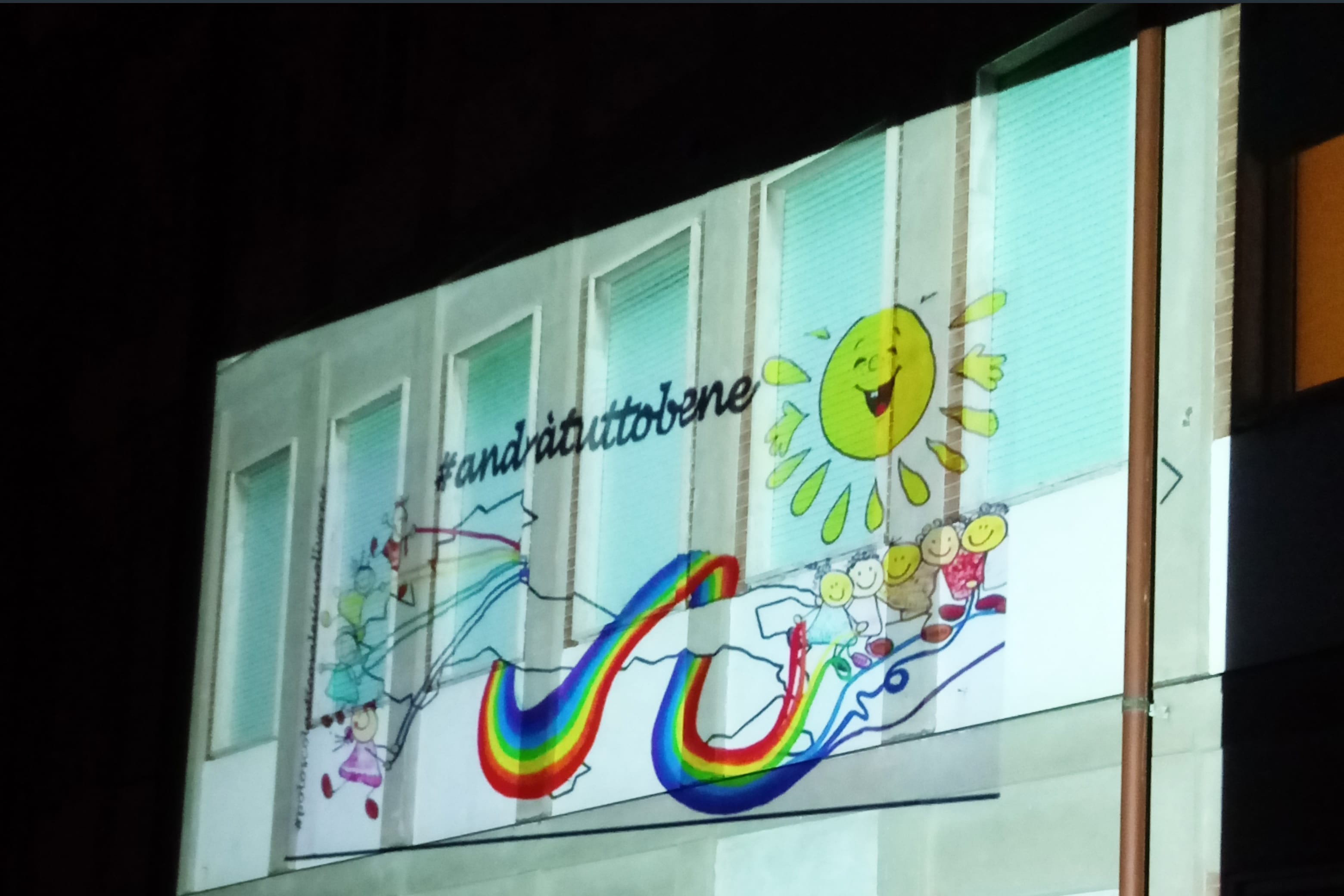 La Spezia (Italy) The obligation of keeping the safety distance, the closure of all places where educational and didactic activities are carried out, the need to re-invent a way to be close to the people, have prompted many Communities of the Daughters of Mary Help of Christians of Italy – and now also in the world – to think of new ways to reach children and families.
Sometimes one has the experience of not knowing their neighbors or not being known by them.
On March 19, 2020, thanks to the proposal of the Italian Bishops to gather the whole Italian Church in prayer at the same time, the FMA of the Provincial House of La Spezia hung drapes of white cloth outside the terrace and lit candles on the terrace and outside the windows of the house. At the same time, they projected on the internal wall of the house one of the images from the whole ILS Province with a rainbow and the words "Everything will be fine". This immediately drew the attention of the families in the building opposite. A few minutes later, 5 or 6 people were each facing their own balcony or window. It was enough for a sister to look out of a window, to trigger spontaneous applause and words of approval that highlighted the need for hope and closeness in a surreal time for everyone.
Starting from this episode, the Communication Commission launched an initiative through the social profiles of the Province, as an attempt to get "close to the closest".
To participate you need a house wall, exposed towards a building inhabited by families, on which you can project some images of hope, with a few words written in large size. Alternatively, if there is an uninhabited building in front of your home, you can project the images there so that they are visible from nearby buildings.
Of course you also need a video projector to project images and words that transmit a universal message of hope, beauty, smallness … but also a reference to who we are.
At the beginning of the projection, the reference to the site and to the social pages of the Province or home can be projected. And at the end of the screening you can leave an appointment for the next screening.
The Provincial Community has chosen to project a message on every Sunday and public holidays, such as St. Joseph and the Annunciation.
To join the initiative, just share the stories on your social profiles, tagging the ILS Province of the Cenacle and adding the hashtag #ioproiettodacasa.
The videos produced are gradually made available on the YouTube channel of the ILS Province.
The first Video: